Deck your pooch out this holiday season with a fun Christmas themed dog collar.
Get your pet into the holiday spirit and really show him off to your friends and family with one of these wonderful winter or Christmas pet collars featuring all kinds of fun holiday prints, patterns, and even bows.
You may just be shocked at how many choices you have when it comes to Christmas dog collars for dogs of all sizes.
Christmas Themed Dog Collar with Bow Tie
Don't get any old collar for your dog this holiday instead buy a Christmas dog collar with a bowtie.
The bow tie attached to the collar just adds so much more fun and makes your pet look simply festive for these winter weeks ahead.
You can choose from any of these "fair isle style sweater" design collars above and the collar comes with the bow that matches to clip right onto the collar.
You can take the bow tie off if you don't prefer it or if your dog doesn't like it so don't worry about it being permanently on the collar if you really like one of the designs above.
These particular collars are not only great for Christmas but some would work well into the New Year as well.
The collars have awesome reviews and you can even see some personal pet pictures with the collars on that look simply adorable.
They come in small, medium, and large depending on the size of your pooch.
Here are a few more Christmas themed pet collars that come with a bowtie. These are hand-crafted, high quality collars that you can even customize and are available in several different sizes.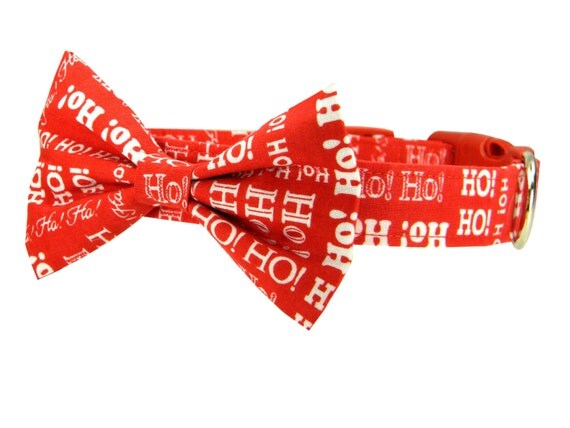 Ho Ho Ho Christmas CollarCheck Price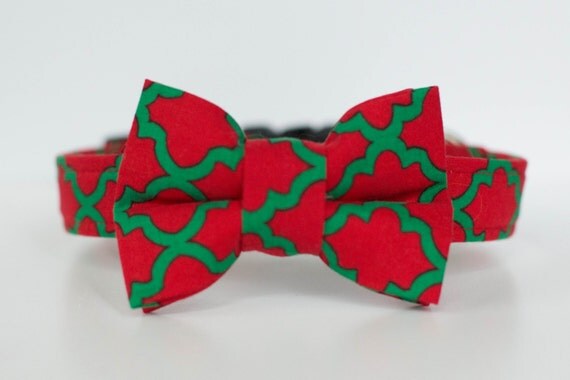 Red and Green Print CollarCheck Price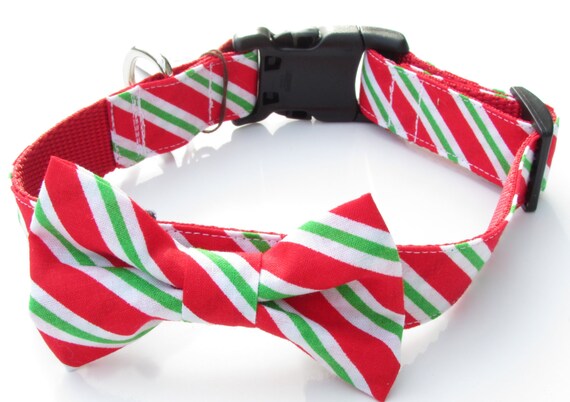 Red, White & Green Striped CollarCheck Price
&
If you are just interested in clip on or Velcro Christmas bow ties for your dog collars there are plenty of those you can choose from as well.
Check out Etsy.com for all kinds of holiday themed dog collar bows for your puppy this year.
Christmas Jingle Bell Dog Collar
Dress your dog up like one of Santa's reindeer's with an adorable jingle bell collar.
There are some collars that are fully functional collars that you can use just as any other dog collar and then there is another one that is more of an accessory collar for dressing up.
Jingle Bell Dog Collar (also available in green)Check Price
Christmas Bell Pet Collar AccessoryCheck Price
&
The Grinch Dog Collars for Christmas Time
If How The Grinch Stole Christmas is your favorite Christmas movie or you simply just love the green mean guy, there are dog collars featuring The Grinch.
These collars are perfect for the holidays and will make you smile every time you see your dog pass by you with The Grinch on his collar.
They also make great gifts for any person who has a dog and loves The Grinch.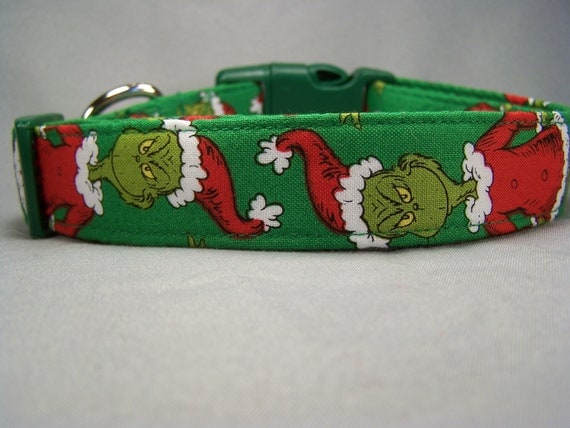 Green Mr. Grinch Dog CollarCheck Price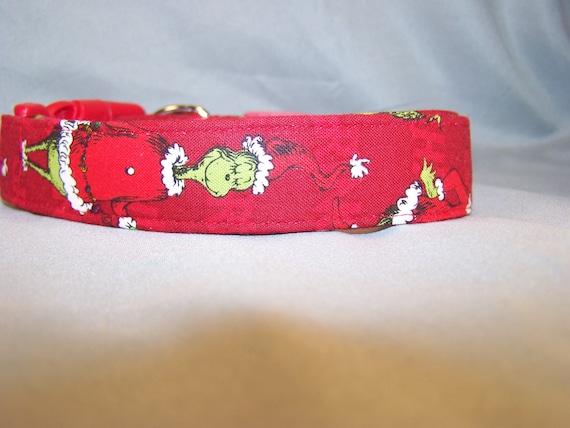 Red Cartoon Grinch Pet CollarCheck Price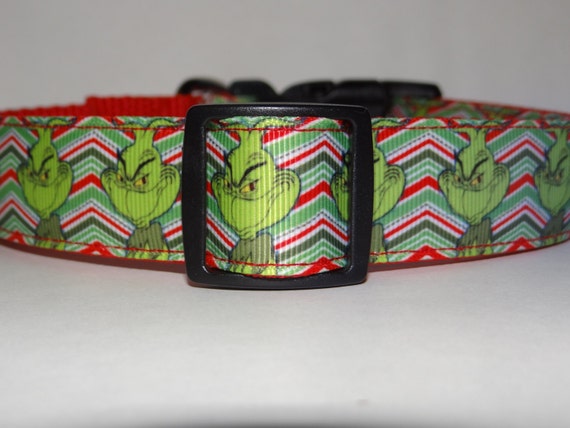 Chevron Print Grinch Dog CollarCheck Price
&
These are just some of the cool looking Grinch dog collars that I found as there are several more that you can choose from at Etsy.com.
Light Up Christmas Dog Collar
If you really want to make your dog look super festive this holiday, then you need to get him a light up dog collar.
These collars are not only great in that they come in a few different Christmas themes but that they use LED lights that allow you to see your pup out at night or during times of heavy snow during the winter.
Plus who wouldn't want a glowing pup by their Christmas tree this year?
There are 4 different modes that you can use on the collar – slow flashing, fast flashing, on, and off. You can simply leave the light off during the day or normal times and just turn the light on at night when letting your dog out or during party time at your house.
Green Snowman Print
White Christmas Trees
Blue Christmas Snowman
&
More Christmas and Winter Themed Dog Collars
If you haven't found a dog collar for Christmas that you like yet or you just want to check out some basic Christmas themed collars for dogs, check out some of  my favorite selections below.
Some of these collars can be bought at an awesome price as a lot of them are not very expensive but can be a really cute way to include your pet in on the Christmas celebrations.
Festive Christmas Stockings CollarCheck Price
Red with White Snowflakes CollarCheck Price
Green Santa Design CollarCheck Price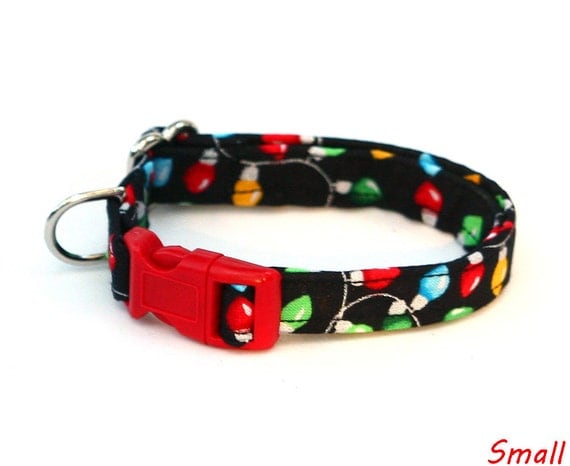 Christmas Lights Dog Collar (all sizes)Check Price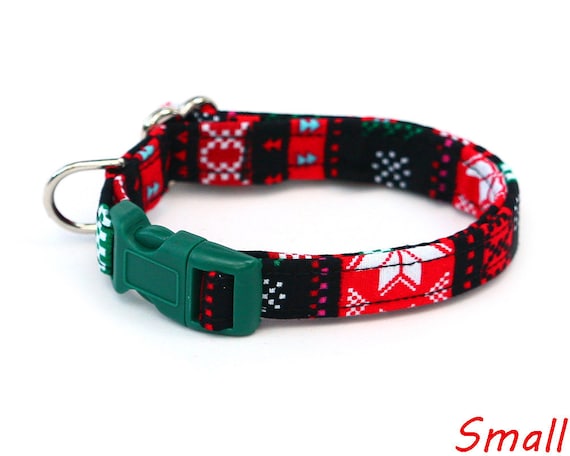 Christmas Sweater Dog Collar (all sizes)Check Price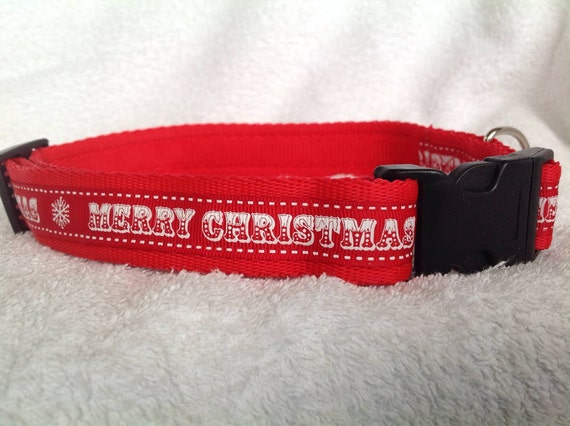 Merry Christmas Dog CollarCheck Price
&
These are just some of the awesome Christmas themed dog collars that you can choose from.
There are so, so, so many more dog collars that are available especially unique ones that you won't find anyplace else except on Etsy.com as well as some really inexpensive collars that you can find on Amazon.
These collars are not only great gifts for your own dog but would make really cute gifts for any other dog owner that you know from your parents to your best friend of 20 years. They would even be cute for young kids to give to their grandparent's dog as an extra special gift under the tree.
Don't forget to check out the Christmas themed dog toys for a great gift idea for your pet as well.