Wondering what to buy a veteran for Christmas?
If you want to show the special veteran in your life how much you appreciate them this holiday, you can't just buy them any old ordinary gift. Instead put some real thought into the present and buy them something you know they can use and love.
Of course there are veterans of all ages from men and women in their 20's who may have just recently gotten out of service to older men who may be in their 80's and 90's. That is why I recommend you check out the whole gift guide below to find the perfect gift for the veteran in your life.
Christmas Gifts For Veterans
**These gifts also work great for birthdays, anniversaries, and even as thank you gifts for veterans.**
Military Medals Shadow Box Display Case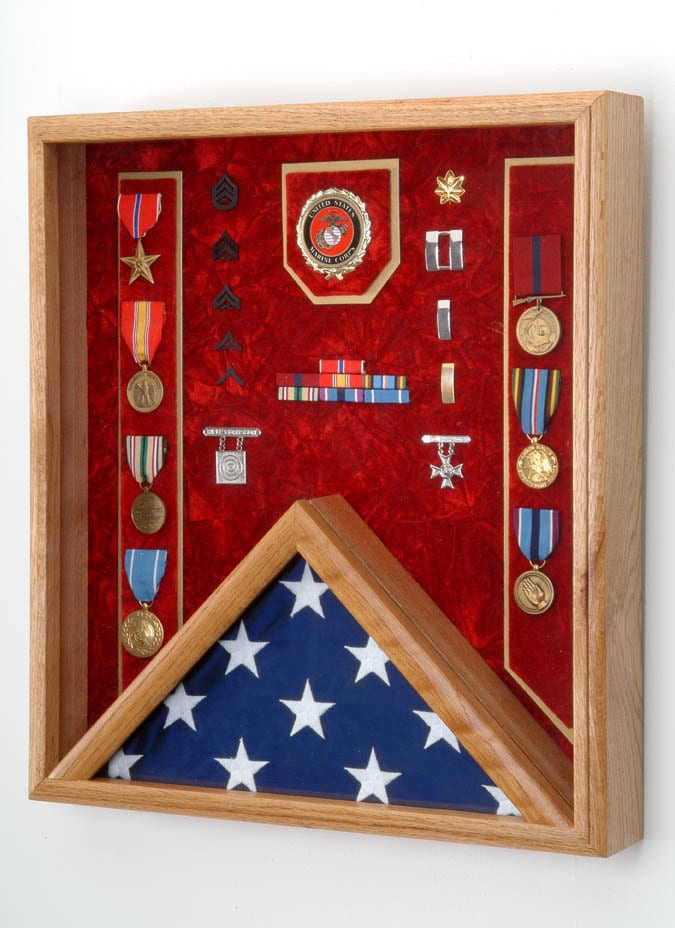 Personalized Military Shadow BoxMore Info
A military medal and award display case is probably one of the best ways to honor any veteran.
If the veteran in your life doesn't have a shadow box or award case for their medals and honors, then this really should be your first plan for a Christmas gift.
Any and all types of medals, badges, pins, patches, and even coins can be displayed in these boxes.
The military shadow box shown here to the side even allows for personalization as well as a flag and emblem to be included in the case. You can even customize the color of the velvet in the box to fit the service branch of the veteran.
If the display case shown here is too expensive (it can cost you over $100), there are simple shadow boxes to choose from that do just as good job as displaying any medals or badges.
The display boxes below may not be able to be personalized but you can still make a wonderful gift by helping to arrange all the medals, badges, and awards for the veteran. There is even a display case just for the military challenger coins.
 Military Medals, Pins, Patches Display CaseMore Info Military Challenge Coin Display CaseMore Info Military Medals Display Case CabinetMore Info
Personalized Veteran Sign For Home or Office
A personalized gift shows that you put some extra time and effort into the present making that person feel extra special this holiday.
These particular veteran signs that I came across from The Binding Tie on Etsy.com are awesome because you can really customize them to the each individual person. The print is actually on the frame, giving this sign a really unique appearance, almost like an award.
You can even include a picture of the veteran right on the sign. They offer just about every branch of service including army, air force, marines, navy, and coast guard.
These veteran gifts are great for Christmas but would be such a sweet gesture for any time of the year. Of course these signs are also wonderful for active military as well.
Here is just a small sample of what you can choose from in these signs. Check out all of the options available for more ideas.
 Personalized Army Framed Veteran SignMore Info U.S. Navy Retirement GiftMore Info Air Force Retirement Veteran GiftMore Info
Engraved Wall Plaque For Marine Corps and Navy Veterans
One of the best gifts for a veteran is to simply honor their service to the country. Most veterans like to talk about their service days and most also like to have reminders of their service.
These engraved wall or shelf plaques are perfect for hanging in the home of your loved veteran, so that everyone who walks into their home knows about their commitment the the protecting this country.
These are engraved wood plaques that are available in navy and marine corps styles. You can choose from one that reads "veteran" at the bottom or you can have their name and or rank personalized on the plaque.
It can be hung on the wall or displayed on a shelf. Here are two designs to choose from or visit this shop on Etsy to check out all the different designs offered.
 Engraved U.S. Navy Veteran Wall PlaqueMore Info Engraved Personalized Marine Corps PlaqueMore Info
Veteran Shirt or Hat
Official Licensed Army Veteran HatMore Info
If you are looking for a simple gift but one that still holds a lot of meaning, a veteran hat may just be the perfect option.
I know that these hats are pretty popular with the older veterans as I have seen plenty of them wearing the hats at military events as well as even at the local VFW hall.
The hat shown to the side here is for army veterans but the hat also comes in marines and navy designs as well.
What I like about this particular hat is that it's not just a ball cap as it has the design embroidered and is a nicer quality material with the soft faux leather.
If hats are not the veterans style, then you can also consider buying a t-shirt so they can proudly show off that they served our country.
Nowadays you can find all kinds of different veteran t-shirts for all the branches of the military. There are simple ones that just read "I served" or "veteran" as well other more intricate designs.
 Military Veteran T-ShirtMore Info Under Armour I SERVED T-ShirtMore Info Army Veteran Defender TeeMore Info
Personalized Ammo Cans
A personalized ammo can is a nice Christmas present if you are looking for something a bit different than your typical veteran gift of a plaque.
These ammo cans are completely functional and can be taken to the range or the person can even use them as sort of a decor piece in their home.
I think this gift idea would be great for a younger veteran (or active duty member as well) who may actually use the ammo can for shooting practice or storing their ammo. Because, let's be real, they will always need more ammo storage.
These would be great for your veteran dad, spouse, brother, sister, son or daughter, or just a close friend.
There are several different styles of personalized ammo cans that you can choose from. There are some that are specifically for the military members and then there are others that have an American Flag or a national eagle symbol.
 Personalized Military Ammo CanMore Info Personalized American Flag Ammo CanMore Info Personalized Ammo Can GiftMore Info
Gift For Veteran Army Dad
Army Gift For Dad – My Greatest HeroMore Info
If you are looking for a Christmas gift specifically for your veteran father who served in the Unites States army, the "My Greatest Hero" poem is such a great choice.
It is professionally laser printed on acid free paper and is ready to be framed for an extra special touch.
The poem that is printed might just actually bring tears to the veteran's eyes as it really shows how much of a hero these service members are even though they aren't celebrities and widely known by everyone.
It is just a wonderful, touching gift that shows your dad how much you appreciate and love him.
There is also a very similar print for veteran marine dads as well.
Military Veteran Keepsake Box
A keepsake box is a great gift for a retired service member so they can keep all their items from service in a specific spot where they can always find them.
These boxes are beautiful with the military designs and the customization. In fact you may find that the box becomes more of a display box rather than just a keepsake box that is stored somewhere.
This veteran gift idea would be great for people of all ages, but especially maybe for older veterans who want to keep all their service items together to show others or just so they know where everything is.
You can choose from different military branches including army, marine corps, and navy.
 U.S. Army Keepsake Box GiftMore Info USMC Veteran Keepsake BoxMore Info U.S. Navy Personalized Keepsake BoxMore Info
More Christmas Gift Ideas For Veterans
If none of the gift ideas above really caught your eye, or you are just looking for some more ideas to find the absolute perfect gift for the veteran in your life, here are a few more ideas for gifts.
 Large Military Challenge Coin Display RackMore Info Engraved Military Veteran Yeti TumblerMore Info Veteran License Plate FrameMore Info US American Flag Veteran PinMore Info Hand Stamped Bullet KeychainMore Info Military Rival Shot GlassesMore Info
If you are looking for an inexpensive gift that you can even hand out to several veterans this Christmas, the American flag veteran pin is perfect. This is a great way to thank someone for their service with a nice little gift that the veteran can wear to proudly show off their service.
Any of the above veteran gifts would be wonderful for under the Christmas tree this year. These types of gifts show your appreciation for the veteran's service no matter how long or little ago they got out of the military you still remember the sacrifice they paid.
Of course these are all great gifts for every gift-giving occasions as well, but you can make the holidays extra special for the veteran in your life with one of these extra-thoughtful presents.