Looking for something different this holiday and want to check out all the different unique artificial Christmas trees that you can choose from?
This past Christmas we needed to buy a new tree and as I was shopping I came across some really great unique Christmas trees. Most of them I had never ever seen before and wanted to share then with others.
So, look no further for that different and special Christmas tree, whether you are looking for a hot pink Christmas tree or something that has all the colors of the rainbow in it.
Unique Artificial Christmas Tree Ideas
Rainbow or Tie Dye Christmas Trees
Rainbow Christmas Tree 6 Ft.Check Price
Color Burst Rainbow Artificial Tree 7 Ft.Check Price
&
 What could be more unique for your tree this Christmas than one that has every color of the rainbow?
The one colorful Christmas tree has more of a tinsel tree appearance while the color burst tree has more of a realistic pine needle appearance and is fuller and wider as well.
You can add lights, ribbons and ornaments to these trees or keep it really simple and let the tree talk for itself. Just adding some simple white lights and maybe a few larger ornaments to the tree can be a great way to really make an impression.
Pink Artificial Christmas Trees
Unlit Pink Fir Christmas TreeCheck Price
Hot Pink Artificial Christmas Tree – 7 ftCheck Price
&
Choose from a hot pink artificial Christmas tree or choose something a bit softer with more of a pale pink Christmas tree.
There are several different ideas for decorating a pink color Christmas tree.
You could go with a candy or whimsical jewel color theme and add in blue, turquoise, yellow, and purple decorations. Another idea would be to dress the tree in white and silver garland and ornaments which looks beautiful with the pink background from the tree.
Upside Down Christmas Tree
Pre-Lit White Upside Down Christmas TreeCheck Price
Pre-Lit Upside Down Christmas Tree with StandCheck Price
&
You really can't get more creative or unique than an upside down Christmas tree.
The two trees above come with a metal stand for the tree but there are some trees that you can get that will hang from your ceiling upside down. I would recommend buying one with a stand unless you don't mind putting wholes in your ceiling or wall for the hanging hardware for the tree. With the stand you don't have to worry about damaging your home to put up the tree.
You can always cover the stand with a Christmas tree skirt and presents if you don't want the base being seen.
You can decorate this tree just like you would a traditional one with lights, ornaments, and garland.
Wood Christmas Tree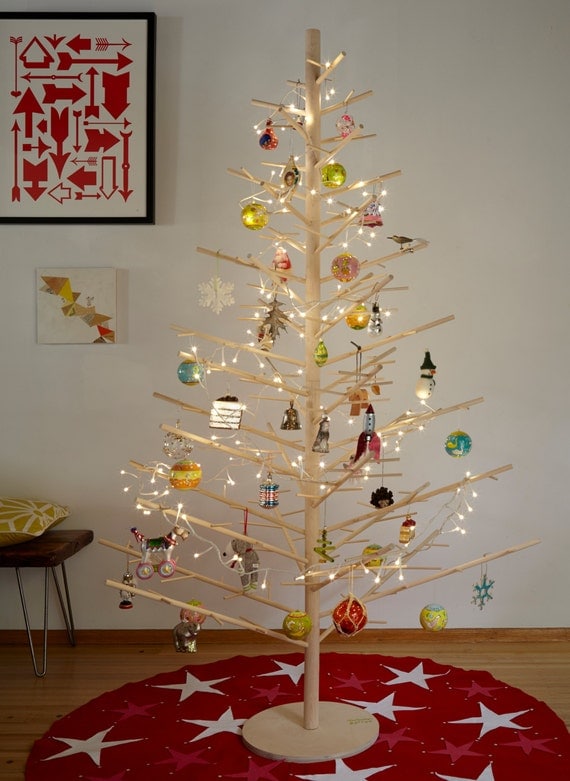 6 Foot Handmade Wood Christmas TreeCheck Price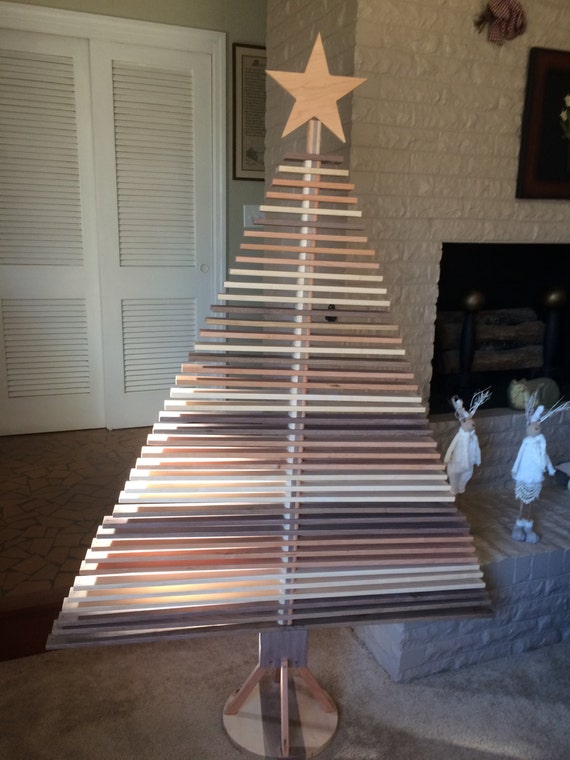 Large Wooden Christmas Tree with Rotating SlatsCheck Price
&
Go with something completely different than your average artificial Christmas tree and buy one made from all wood instead.
These are completely unique and something that you don't see being sold in your local department stores.
The neat thing about these trees is that you can still easily decorate them anyway you want with all your ornaments and ribbons but they will still have that one-of-a-kind style.
The second tree above even comes with rotating slats so you can use it as pictured or you can rotate them around so that they are spread out just like tree branches.
Flocked Artificial Christmas Tree
6 Foot Prince Flock Artificial Christmas TreeCheck Price
Flocked Lime Fir Artificial Christmas TreeCheck Price
&
Your tree will look like it just came from the outdoors with fresh powder snow on it's branches.
These flocked Christmas trees are absolutely stunning. They can be left as they are or you can choose to decorate them with some simple ornaments, garland or ribbon.
The Prince Flock tree is super realistic looking and can really pass for a real evergreen tree that has been sprinkled in snow flurries.
The flocked fir tree is also very pretty but it does come with slightly more flocking so be prepared for more of a "white" Christmas tree than green.
More Alternative Christmas Trees
Here are a few more unique fake Christmas trees that have their personal touches that make them different than your traditional Christmas tree.
Silver and Gold Tinsel Christmas TreeCheck Price
Fiber Optics Artificial Christmas Tree Star LightsCheck Price
&
The fiber optics tree is such a great addition to your home if want something that sort of looks like your average tree but comes with something extra special.
There are red, white, green, and blue lights that fill the tree and there are 8 different modes for the lights.  The lights aren't just regular lights though. There are 280 star shaped LED lights on the tree to give it even more of a unique appearance.
DIY: Spray Paint Your Christmas Tree
If you are short on money this holiday or you already have a Christmas tree and just not sure how you can decorate it so it fits your style perfectly, consider painting the tree.
If you want the tree a completely different color without being able to see any of the green branches underneath than you are going to want to start out with a white tree to begin with. The white tree allows you to spray paint it just about any color without having to worry about the color coming through.
You can also try it with a traditional green colored tree and spray paint it white to begin with as they may help hide the green color more.
The key to spray painting your Christmas tree is having enough spray paint (you will need a lot) and getting as much coverage as you can all over the entire tree.
Getting the entire tree covered in paint will take several layers of spray paint as you will have to bend the branches all which ways and allow it to dry for some time to be sure that the entire tree is covered with the paint.
It may be a good idea to try a smaller tabletop Christmas tree before attempting to spray paint a 6 foot tree.
You definitely don't have to settle for a normal, ordinary Christmas tree this holiday as there are plenty of unique artificial Christmas trees that will fit your style and personality and make heads turn this Christmas.