How The Grinch Stole Christmas has been one of my most favorite holiday movies since I was little which is why I simply love all the cool Grinch yard art and outdoor decorations that I have been seeing lately.
If you are a fan of The Grinch or just looking for something different and unique for your Christmas decorations this year, I suggest you check out all these great decorations featuring The Grinch.
The Grinch Stealing Christmas Lights Yard Decoration
You may have seen this decoration idea on Pinterest or Facebook as the past year or so it has become very popular idea, but not one that a lot of people actually use in their yard.
If you want to be unique and have something that may be easy to set up and still get people looking at your decorations, then check out these different options for The Grinch stealing Christmas lights yard decorations.
The Grinch and Max Stealing Christmas Lights
The really neat about this decoration is that not only do you get the Grinch but his adorable sidekick Max comes with him as well.
The Grinch decorations measures approximately 48 inches tall.
The pieces are all hand painted and coated with two coats of sealer to ensure that it stays looking perfect through the winter conditions.
The yard art is made from half inch plywood so it's pretty sturdy and will last for several years as well.
**The above Grinch decoration is still available but the seller is getting caught up with orders as you may have a better chance at buying the decoration below instead**
Both of these Grinch outdoor decorations are similar in that you can string the lights through the Grinch's hands as well as even have them tangled up in Max's antlers.
The lights do not come with the decoration but you can easily add in an inexpensive strand of lights to finish off the decoration.
By using the Grinch as well as Max in your decorating you definitely will stand out as most people simply just have the Grinch stealing lights and don't include Max as well.
Just the Grinch Yard Art
Buying just this Grinch stealing lights decoration may be a good alternative if you are looking for something a bit cheaper or you simply just want The Grinch all by himself.
This is all handmade from 1/2 inch plywood as well as hand painted too.
It measures approximately 48 inches tall and is 23 inches wide.
As you can see the way his hand is notched you can easily string in a strand of Christmas lights to make it appear as if he is taking them. A cute way to to do this would be to place him right by your house and have then hanging off your house and into his hands.
Along with the decoration you also get the mounting support so that you can easily place it in your yard or garden and not have to worry about it blowing over very easily.
This comes from the Etsy shop Perfect Design Shop and they also have other How The Grinch Stole Christmas yard art pieces as well.
Giant Grinch Decoration Stealing Lights
If you really want your Grinch decoration to stand out in your yard, then you have get this huge yard art of the mean one stealing Christmas lights right off your home.
This particular decoration measures almost 6 feet tall as it comes in at approximately 69 inches. That is almost 2 feet taller than most of the other Grinch yard decorations.
Each decoration is sanded down and painted and then even sealed with an outdoor sealant to ensure it won't fade or get ruined in the snow or rain.
The Christmas lights are not included with the decoration but you can easily pick up a strand for a few dollars at home improvement stores during the holiday sales.
Although the attachment to stake the decoration into your yard is included you will have to buy the poles to make it stand up.
This is probably the "ultimate" Grinch yard art decoration and will definitely be the hit of your neighborhood.
More The Grinch Who Stole Christmas Yard Art Pieces
There are more than just the Grinch stealing Christmas light pieces to choose from. In fact you may just be surprised at how many pieces of How The Grinch Stole Christmas yard decorations you can find.
For something unique I would recommend the items from Etsy as you get something that really looks special and something that not everyone will have in their yard.
Here are some of the wonderful Grinch yard art items I came across that would put a smile on anyone's face (even the Grinch's) this holiday.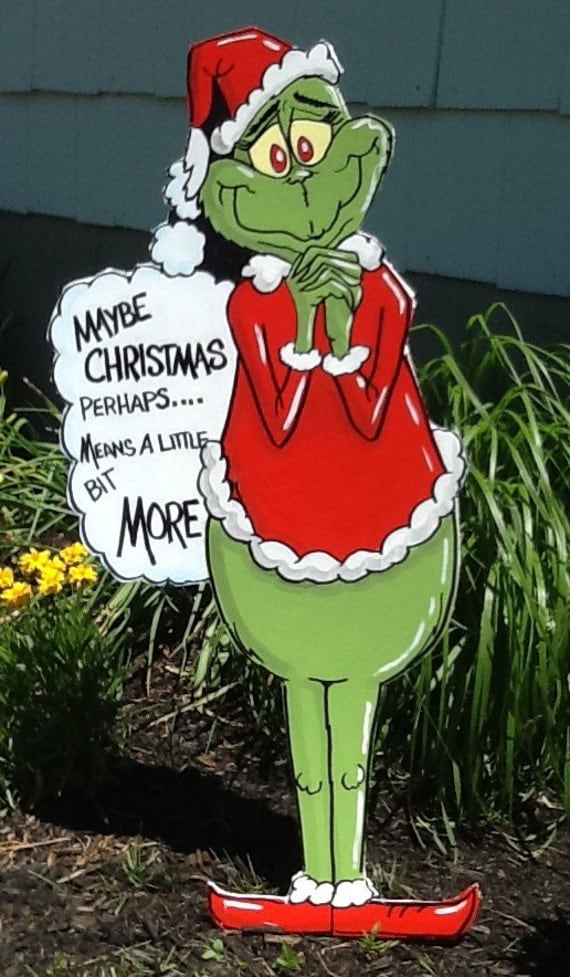 Christmas Means More… Grinch Yard ArtCheck Price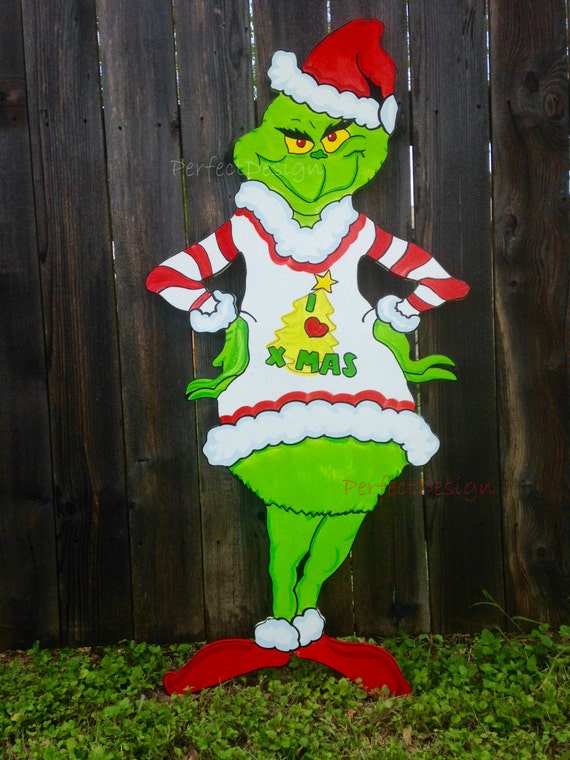 Grinch Ugly Sweater Yard ArtCheck Price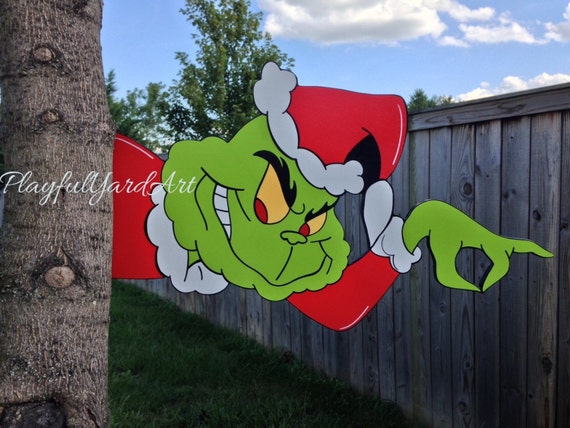 The Grinch Tree Peeker Christmas DecorationCheck Price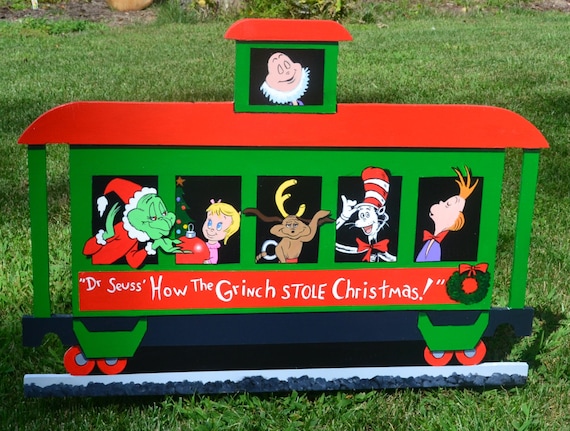 The Grinch & Cat In The Hat Christmas Train DecorationCheck Price
&
All of these decorations are made on 1/2 inch wood that is made for using outdoors.
They are all hand made and painted, which means you get than really unique look rather than having the same outdoor Christmas decoration as everyone else on your street.
If you are looking for something a bit cheaper, but you still want to have something related to The Grinch Who Stole Christmas, check out this neat garden sign.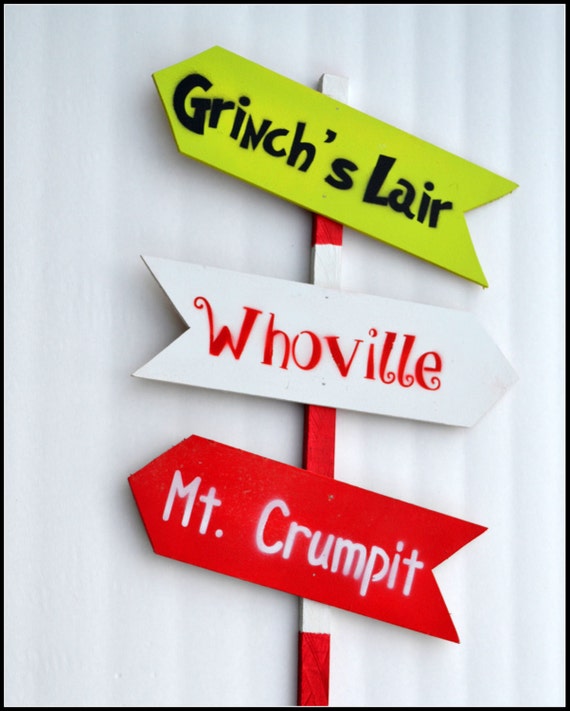 The Grinch Who Stole Christmas Garden SignCheck Price
&
This sign would look great by your front porch or by your driveway in your lawn.
It easily stakes right into the ground and is sealed for outdoor use.
You could always pair it with another Grinch yard art decoration as a nice added touch to the whole scene as well.
No matter if you choose the Grinch stealing Christmas lights yard art or you go with something a bit simpler, your yard is sure to be a hit this holiday with family and friends and most likely your neighborhood as well.