All aboard the Polar Express for a party full of fun!
Whether you are planning a Polar Express Christmas party for your child's friends or for a group of 200 people you'll find everything you need to pull off the perfect party. These ideas and supplies also work great for birthday parties and even some can be used for movie night with your family.
Polar Express Christmas Party Ideas
*Polar Express Christmas Party Invitations*
 Polar Express Train Ticket InvitationsMore Info Polar Express Christmas Party InvitationMore Info Customized Polar Express InvitationMore Info
There are some really neat ideas when it comes to invitations for a Polar Express party.
One of the most popular ideas is to make a Polar Express ticket for the invite.
Any of the invitations above can be customized with your party information and even some of the wording can be changed around to fit your needs.
With the first two invitations you can print them yourself, as many times as you need while the last invite are printed and sent to your home. It depends on what option you like and how much money you want to spend on your invitations.
~Also be sure to keep scrolling below to check out some of the Polar Express birthday party invitations as you'll find some of these invites can also be changed for a holiday party instead.
*Polar Express Ticket Punch – Believe*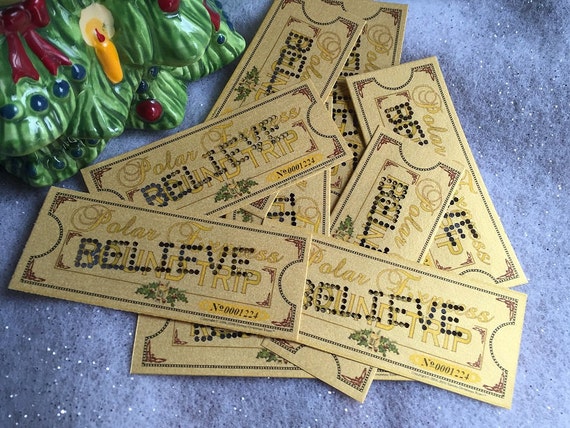 Polar Express Believe Punched TicketsMore Info
One of the most memorable parts of the Polar Express movie as well as the book was the tickets that needed to be punched in order to make it to the North Pole.
Well your party guests can have their very own Polar Express "Believe" punched ticket to take home after the party.
This adds to the fun of the whole party and you can hand out these tickets when your guests arrive or save them for a surprise at the end.
Instead of having to punch the holes yourself to spell out Believe, check out this neat deal for already made golden Polar Express tickets that have "Believe" already punched out.
*Polar Express Party Supplies and Decorations*
There are so many different ways that you can take your Polar Express party when it comes to decorating and supplies.
You can stick with more of a North Pole theme with red and white as your main colors along with some Santa items thrown in. Or you can take it more of the train part of the story and stick with more decorations and supplies that have to do with trains.
If you are looking for a decoration package that you can simply download and print the supplies yourself, check out this neat one that has party labels, banners, posters and more. Some of the items can be personalized with a name for the party.
 Polar Express Christmas Party Decoration PackageMore Info
This same decoration package is also available in blue and white pattern if you prefer that as well.
One really fun idea is to have a hot chocolate bar for both kids and adults. Of course hot chocolate is served aboard the Polar Express train so it really is an important detail of the party.
Instead of just having any ole hot chocolate, serve the drinks with fun mix ins such as small marshmallows, large marshmallows, chocolate chips, peppermint sticks, and candy canes.
Check out these awesome Polar Express hot chocolate decoration pack that comes with 2 posters as well as hot chocolate labels. You can even customize part of the labels.
 Polar Express Hot Chocolate Bar Decoration PackageMore Info
Here are a few more ideas for Polar Express party supplies and decorations to help you make the perfect party.
 Polar Express Believe Poster DecorationMore Info Polar Express Banner and Ticket SignMore Info North Pole Standing Sign DecorationMore Info
A cute added touch would be small Santa cups for the hot chocolate and drinks. You can decorate with snowflakes all around and make the room into the North Pole.
 Ceramic Santa Heads Drinking MugsMore Info Biodegradable Paper Drinking StrawsMore Info Snowflake Paper Fan Hanging DecorationsMore Info Hanging Snowflake String LightsMore Info
*Polar Express Party Favors *
Of course you have to have some cool party favors for your guests to take home from the party. Here are a few ideas for party favors for a Polar Express party.
Most of these favors would work great for both a holiday party or a birthday party.
Polar Express Sleigh Bell Favor
 Polar Express Tag With BellMore Info Polar Express Bell With Believe TagMore Info Large Silver Jingle BellsMore Info
Since the sleigh bell plays such an important part in the Polar Express story it only makes sense to incorporate it into your party favors. Your party guests can enjoy having their very own sleigh bell to remember the party by.
You can get the bells that are already done and ready for you with the tags or you can buy a supply of the jingle bells and make up your own goody bags or craft with it.
Here are a few more Polar Express party favors to give you ideas for cool parting gifts for your guests.
 Polar Express Sleigh Bell Treat BagsMore Info Thank You Party Favor TagsMore Info
The thank you tags can be customized and downloaded. Then you can print as many as you need for your guests. For something really easy simply print the tags and then attach them to a bag full of candy in the designed color scheme of the party. Or you could attach the tags to the sleigh bells listed above.
The treat bags are also a great touch and can be filled with goodies like candy, small toys, or cookies.
Polar Express Birthday Party Invitations and Supplies
If you are looking for specifically for Polar Express birthday ideas you can definitely use most of the ideas above but here are a few more tips to make the birthday party extra special.
*Polar Express Birthday Party Invitations*
 Polar Express Birthday Party InvitationMore Info Printable Polar Express Birthday Party InvitationMore Info Golden Ticket Polar Express Party InviteMore Info
You'll find that these invitations are personalized to fit your child's name and age as well as party information. Most of them are also printable yourself so you can even save some money printing the invites at home.
Some of the invitations even have matching thank you cards that you can purchase as well so everything matches perfectly for the party.
*Polar Express Birthday Party Supplies*
As I mentioned before you could easily use any of the party supplies above for birthday parties as well as holiday parties, but there are some specific birthday decorations and supplies to choose from as well.
One of the easiest ways to prepare for any type of party is to buy a party package that comes with different decoration options for food, desserts, banners, and other decor items.
Here is a simple decoration set that comes with a happy birthday banner, welcome sign for the party guests, and cupcake toppers (or centerpiece toppers). Here is a look at the birthday banner included in the set.
Another great package option is very similar to the one listed above for the Christmas party but instead it is customized for a birthday celebration.
It is available in both blue and white or red and white options. Just some of the items it comes with is a banner, party signs, labels for food and drink, thank you tags and even invitations for the party.
It is a file that you download and can edit for your child's name and age and the print at home or you local print shop.
 Polar Express Birthday Party Supplies SetMore Info
You can also check out the red and white option for the set as well.
Lastly, you are going to need a cake for the birthday party, right? Why not get your very own personalized edible cake topper tha
Polar Express Party Games and More
With a Polar Express themed party there are lots of great options for games and activities to keep all the guests (kids and adults) busy and having fun.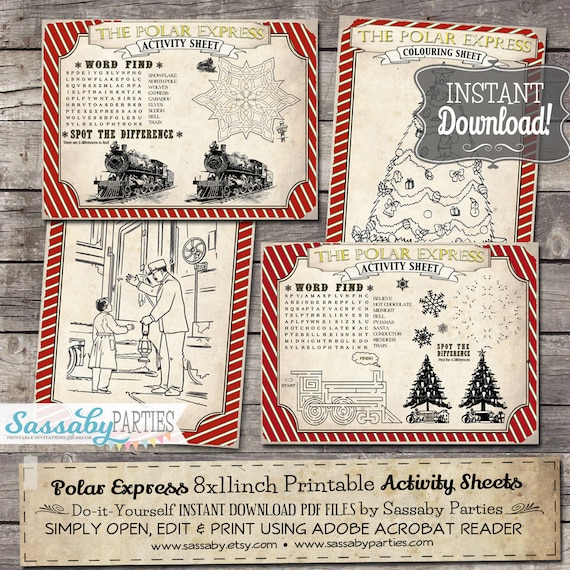 Polar Express Party Activity SheetsMore Info
Polar Express Printable Activity Sheets
If you are having a child's party either for a birthday or even for a Polar Express classroom party at school, these printable activity sheets are a great option. Included in this set is a word searches, coloring sheets, and maze puzzles.
Since you print the sheets yourself this can be a good option to save you money on crafts or activities and kids still get to have lots of fun.
Read The Polar Express Book
To go along with the party, take some time and actually read the Polar Express book. I was actually surprised at how many kids didn't even know that the Polar Express was a book instead of just a movie.
You can even have a surprise visit from Santa to read the book to the kids. And I know that even adults enjoy hearing the story as well.
Guess The Number of Sleigh Bells Game
Stick with the sleigh bell theme and fill a jar full of bells to have guests guess how many bells are in the jar. This can be a fun activity that can be done throughout the party when the guest are waiting on others to eat or finish other activities.
The persona who guesses closest the exact number can win a special prize, such as The Polar Express book or movie or some sort of small gift or candy.
Draw Yourself On The Polar Express Train
If you have some artistic talent get yourself a roll of butcher paper and draw a large train. Make it big enough that there are enough windows for each child to draw a picture of themselves riding on the train.
You can hang the train picture on the wall for the rest of the party and then your child can have the drawing to remember this special birthday or holiday by.
This would also work for a classroom party at school as you could draw different train cars to connect together for all the students to draw on.
Pick Easy and Fun Games For Younger Kids
Make your like a bit easier and choose some games that younger kids can play on their own or with very little help from an adult.
Some ideas include pin the nose on Rudolph or snowball toss were kids have to get some soft snowballs into a bin or bucket. You can even have a station set up were kids can write or draw a letter to Santa.
You don't have to have elaborate crafts and games for kids to enjoy the party.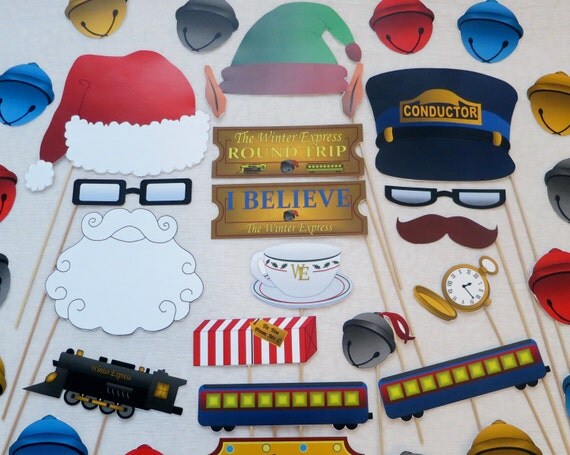 Photo Booth Prop SetMore Info
Polar Express Photo Booth Idea
Make your own photo booth props (or save time and check out the already made options) and get guests to take some fun and silly photos.
You don't have to have your own actual photo booth as those can be pricey but instead just set up a backdrop area on a wall were people can take their own photos.
Or for something like a kid's classroom party you can let kids choose their props and then you can take a picture of all them and have them printed out and sent home as a cute holiday gift.
Invite Guests To Wear Their Pajamas  to the Party
Turn your get-together into a pajama party and celebrate in Polar Express attire.
This could work for a child's birthday party or even a family holiday party or gathering as even adults love to spend time in some cozy pjs.
Make A Ticket Stand For The Entrance Of The Party
You can make a DIY ticket stand out of scrap wood or pallets or even a large cardboard box.
Have one of the adults dress like an engineer (not necessary but a fun addition) and collect the tickets (invitations) from the guests as they arrive at the party.
Once they hand you their ticket you can hand them pack a Believe punched ticket or a special token of some sort that they can keep till the end for a special prize or favor.
Any of these Polar Express party ideas could be incorporated into just about any type of party from a school classroom party to a child's 7th birthday party. It just depends on how much room and time you have for all the different activities and decorations.
You could even use some of these ideas and plan a personal Polar Express Christmas party for just your kids for a fun night celebrating the holidays and watching the movie.
I'd love to see pictures of your Polar Express party and how much fun everyone had!