Don't want to buy just any old present for the grandparents in your life, then you need to check out these wonderful personalized Christmas gifts for grandparents.
When you spend the bit of extra time to buy a personalized gift it really does make the gift so much more special.
There are so many great personalized gift ideas for grandma and grandpa that you are sure to find something they don't have or maybe have always wanted.
I've done all the research for you to make your holiday shopping a bit easier and found the best personalized gifts for grandparents. (Most of these gifts also work well for birthday presents as well).
The Best Personalized Christmas Gift Ideas For Grandparents
Personalized Christmas Ornaments For Grandparents To Hang On Their Tree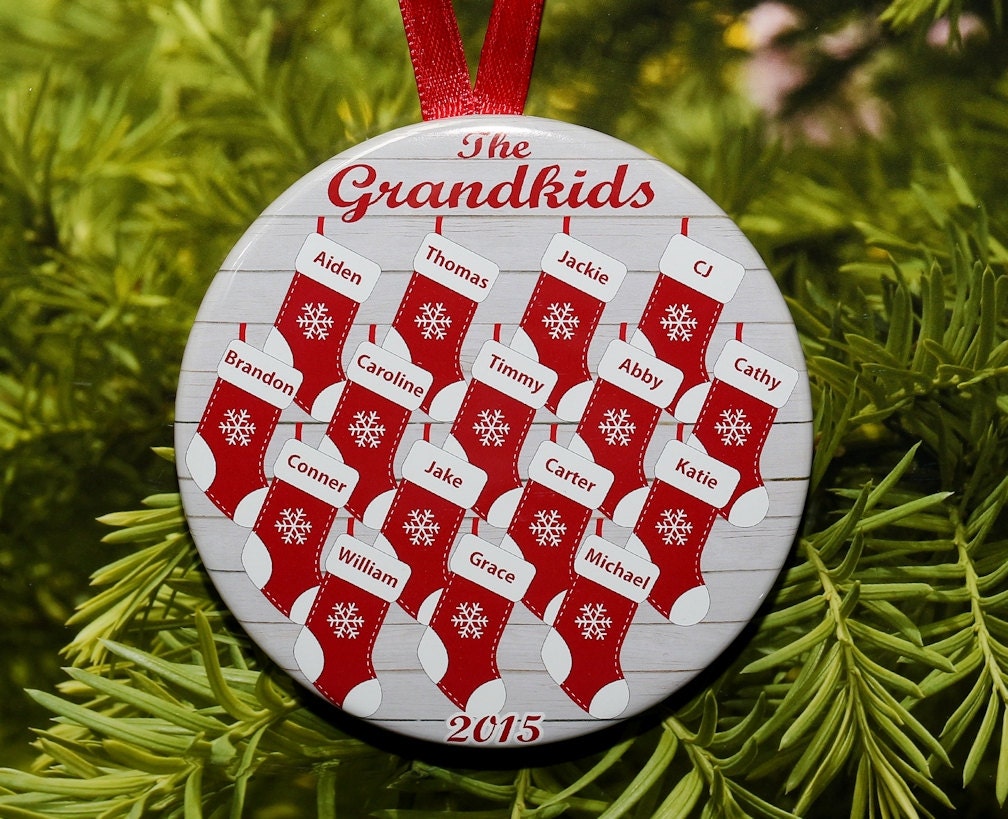 Grandchildren Stocking Ornament (available in current year)Check Price
Ornaments make wonderful Christmas gifts because they can be used year after year and hold a special memory each holiday.
Each year when the grandparent goes to hang the ornament on the tree they can always recall memories of the year. It can even be a cute way to start a tradition of a new grandchild ornament every year to see how the family grows.
You can find ornaments that feature all the grand kid's names as well as even their birth dates. There are also other ornaments that simply have the year or the grandparent's names instead.
Keep scrolling below to check out the adorable first time grandparents ornaments if this is their first Christmas with a grandchild.
 Engraved Blessings Christmas OrnamentCheck Price Our Grandkids Ornament 2017Check Price Grandchildren Ornament (other number hearts available)Check Price
Celebrate This Year With a First Christmas As Grandma and Grandpa Ornament
Is this the first Christmas as a grandparent? Then, I have a few special ornaments to mark this wonderful occasion this holiday.
 Engraved First Christmas OrnamentCheck Price Baby Photo First Grandparents OrnamentCheck Price Our First Christmas As Grandparents OrnamentCheck Price
Be sure to check out more Christmas gift ideas for first time grandmas and grandpas below.
Customized Grandparent Photo Frames Allow Grandma and Grandpa To Show Off The Grandkids
What grandparent wouldn't love their very own personalized photo frame featuring a picture of all their grandkids? I mean, it's a great way to show of all their blessings to everyone who comes in their home.
An extra special touch to this gift is to include a photo of all the grand kids together. If you aren't able to get them all together before the holidays you can just make sure that you get a picture of them during the holiday gathering and then have it printed out for the frame.
 Grandma & Grandpa Personalized FrameCheck Price Greatest Blessings Grandkids FrameCheck Price Love You To The Moon… Personalized FrameCheck Price
With these frames you'll find that you are able to customize to include the names of the children making this such a sweet gift to grandparents from the grandchildren.
More Personalized Gift Ideas For The Home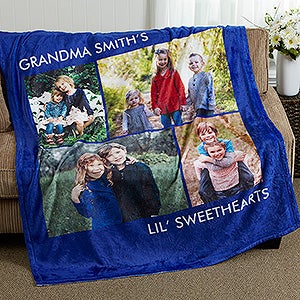 Personalized Photo Collage BlanketCheck Price
Of course picture frames and ornaments aren't the only items that can be hung up or displayed in the home to show off all the grandparent's proud achievements.
There are plenty of other personalized home decor items that make great gifts for a grandmother and grandfather.
There are decor items that can be hung up on the wall or even other items like blankets that can serve a function in the home as well. The photo blanket seen to the side would be perfect for grandma and grandpa and you may even want one for your own home.
Here are some of the top personalized gifts for grandparents when it comes to home decor or other special items for the home.
 Personalized Grandchildren PillowCheck Price Customized Family Tree PrintCheck Price Grandkid Platter DecorationCheck Price
You Can't Go Wrong With A Personalized Mug – Great For Coffee and Tea Drinkers
Is the grandma or grandpa a big coffee or tea drinker? Then every time they take a sip of their beverage they can be reminded of the love of their grandkids.
Personalized mugs are super cute and practical gifts even for older grandparents who may have just about everything.
It was difficult choosing the best personalized grandparents mug because there are so many of them to choose from. But here are a few of my favorites. If you want to check out more, I recommend Etsy.com as you can find just about any type of personalized gift you could want on there.
 Personalized Reasons Why MugCheck Price Grandpa and Grandma Customized MugsCheck Price My Favorite Faces Photo Collage MugCheck Price
With any of the mugs above you can have them personalized with whatever name the grandparent goes whether it is just Grandma, Mimi, or Papa.
Personalized Grandparent Shirts For Something Cute to Wear Around
Give grandparents a creative way to brag about their grandkids with a personalized grandparent shirt.
These shirts are great for everyday wear or they can be worn to parties or special events that the grandparents go to. For example, I see grandmas wearing these types of shirts all the time at the church picnics as well as even at the grocery store.
It would also be adorable to have the grandparent wear the shirt and then take a picture with all the grandkids. It would for sure be a photo to frame and hang on the wall.
 Reasons Why Grandparent ShirtCheck Price Handprint Personalized Grandma or Grandpa ShirtCheck Price Best Grandparent Ever Shirt (can be personalized)Check Price
Both the Reasons Why shirt and the Best Grandparent Ever shirt have different color options available so you can pick the person's favorite color.
These shirts would be great for opening on Christmas morning but also work great for Mother's Day, Father's Day and even birthdays.
Christmas Gifts For First Time Grandparents Including Gifts From Babies 
If you recently just had a baby and you want the perfect Christmas gift for a first time grandparent, then I've got some great options for you.
This holiday is such a special one and having buying a personalized gift marking this year for the grandparent makes it so much more special.
I already listed a few first time grandma and grandma Christmas ornaments up above so make sure you check those out as well as some of these gift ideas as well.
 Grandparents Announcement SignCheck Price New Grandparent GiftCheck Price Promoted To Grandma/Grandpa MugCheck Price
A Personalized Pregnancy Announcement Gift Will Put A Permanent Smile On Their Face
Is this Christmas the time you are going to surprise your parents and announce they are becoming a grandmother and grandfather? Christmas is a wonderful time to make a pregnancy announcement as you gather with your loved ones and make some great memories.
A pregnancy announcement gift for grandparents comes in all shapes and sizes. It could be as simple as a small Christmas ornament or something a bit more extravagant.
Here are some great gift ideas for announcing your pregnancy to your parents this Christmas with a special present under the tree.
 Grandma Pregnancy Announcement BoxCheck Price You're Going To Be Grandparents GiftCheck Price Grandparents-To-Be Christmas OrnamentCheck Price
Personalized Christmas Gifts For Grandma
If you unfortunately no longer have a grandpa to buy for or maybe you are just looking for a personalized gift for grandma, there are some really nice options just for her.
 Personalized Grandmother Willow Tree FigureCheck Price Personalized Grandma Keychain GiftCheck Price Grandma's Kitchen Engraved Cutting BoardCheck Price
Give Her Something Special To Wear With Personalized Jewelry For Grandma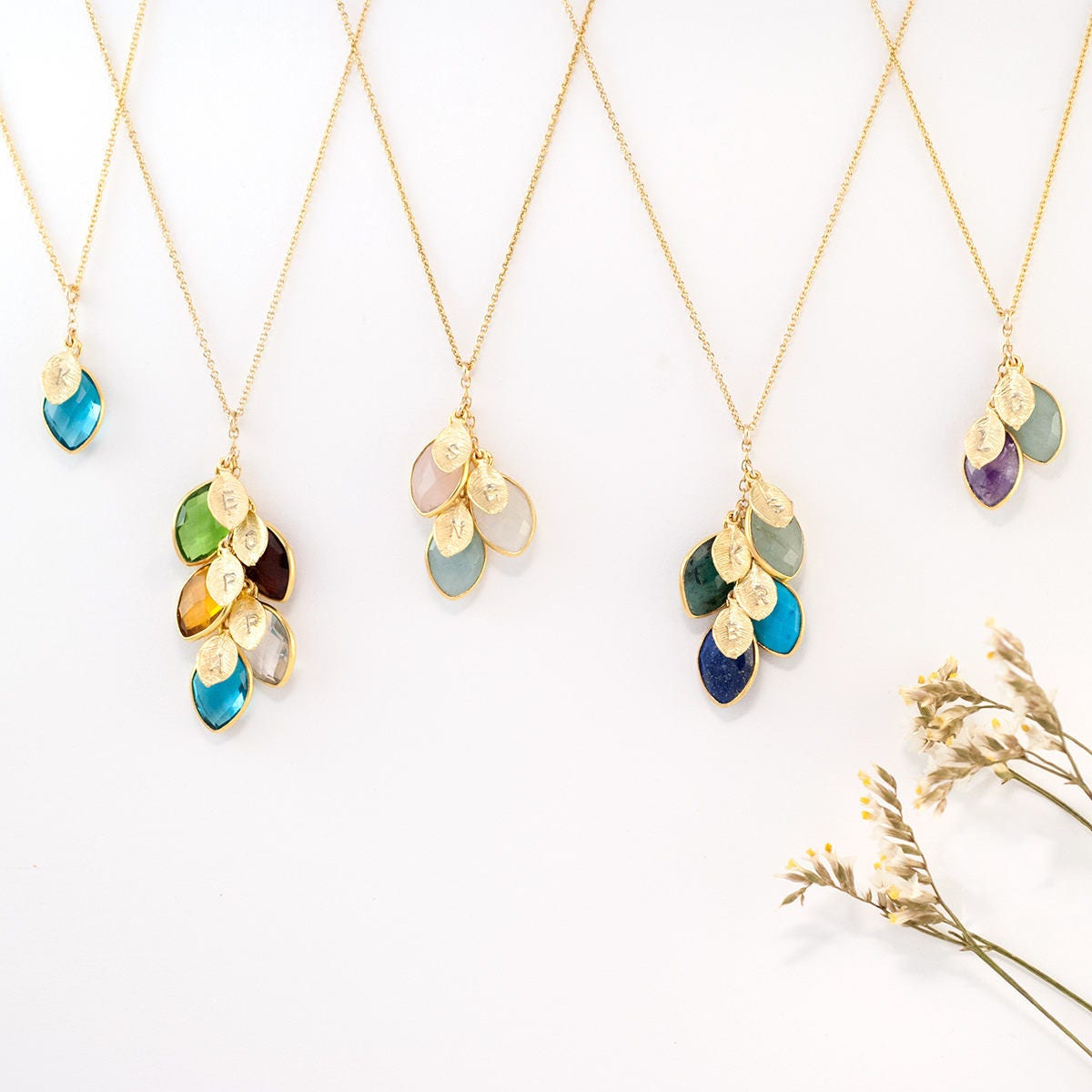 Personalized Family Tree Birthstone NecklaceCheck Price
Of course jewelry, whether it is a necklace or bracelet, makes for a wonderful Christmas gift for grandmas.
A personalized necklace with all the grandkid's names or birthstones can be a clever way to keep her loved ones by her heart at all times. The personalization of the jewelry makes it even more special and ready to be shown off.
If the grandma doesn't wear a lot of jewelry this may not be the best gift idea. But for any woman who likes to occasionally wear some jewelry or even has a few basic items she wears every day, she will love adding one of these personalized items to her jewelry box.
You can always make it just from your family or include all her grandchildren in the gift as well.
These gift items would also be great for great grandmas as well.
 Personalized Name Cuff BraceletCheck Price Custom Grandma with Birthstones NecklaceCheck Price Grandma Gold Bar Name NecklaceCheck Price
More Personalized Christmas Gifts For Grandparents Of All Ages
Still haven't found the perfect personalized Christmas gift for grandpa and grandma yet?
Here are a few more gifts that I came across that are creative and unique and needed to be included in this gift guide.
 Grandparents Wood Sign For PhotosCheck Price Long Distance Grandparents GiftCheck Price Best Family Ever Family Portrait IllustrationCheck Price
If you have an older grandparent who may not really have a need for these items or is a little harder to buy for check out my Christmas Gift Guide for Elderly Seniors. This guide is more for older seniors who may be housebound or even in a nursing home.
As you can see you have some pretty great gift choices for for grandparents. Any of these gifts would be great for Christmas gifts for grandparents from your kids if they are little as well as even older grandkids. These would work great if you are looking to buy a gift for your parents or in-laws from your children.
Personalized Christmas gifts for grandparents really add that special thought to a present showing how much you love them and care about them.