It can be super easy as well as lots of fun decorating your entryway into your home with Christmas porch signs.
There are all kinds of neat signs from a simple "Merry Christmas" to snowmen and other Christmas sayings.
Some of the most popular signs for your porch tend to be the vertical wood signs that can sit in the corner and welcome visitors into your home this holiday.
Porch Signs for Christmas
Here are a variety of different Christmas porch signs to choose from. Some of these signs can be personalized and do keep in mind some are custom made when you order so you should order early to be able to use this Christmas time.
These signs also make great gifts for loved ones and most can also be used indoors to decorate as well.
Merry Christmas Porch Sign
Wish all your friends, family and neighbors a Merry Christmas with these signs for your front porch.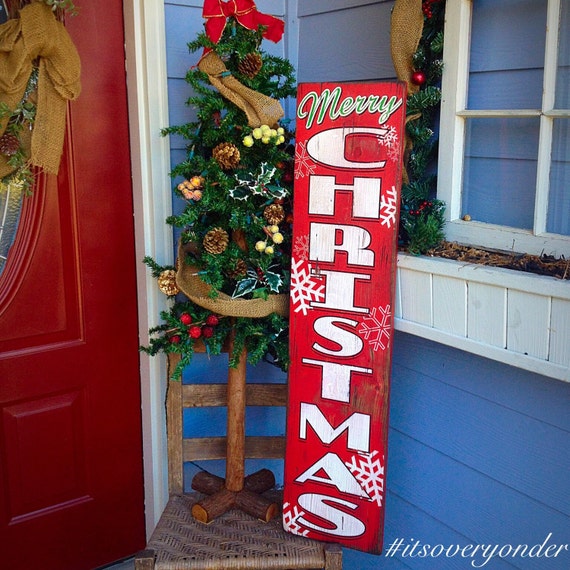 Distressed Rustic Wooden Porch SignCheck Price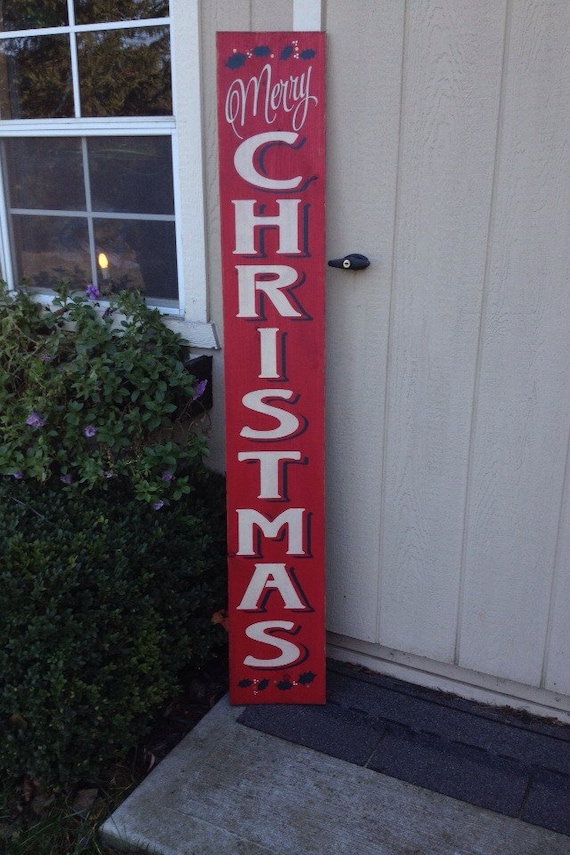 Merry Christmas Large Vertical DecorationCheck Price
&
Both of these signs are hand painted and made from wood that gives that a unique touch to each sign that is made.
The second sign is taller (approximately 5 feet) and could work alone on your porch while the first sign is slightly shorter at 40 inches and can easily be hung or used with other decorations.
"Believe" Christmas Porch Signs
If you believe in the magic of Christmas, then these signs may be perfect for decorating your home this holiday.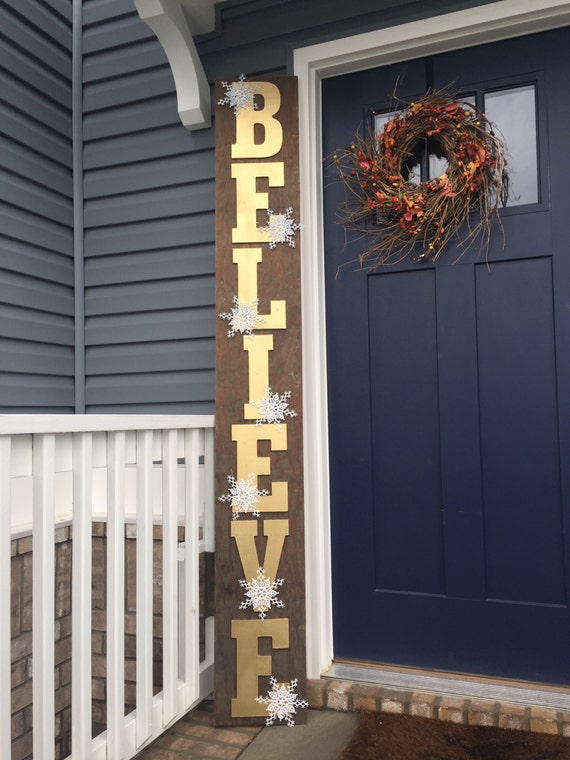 Huge Believe Christmas Porch DecorationCheck Price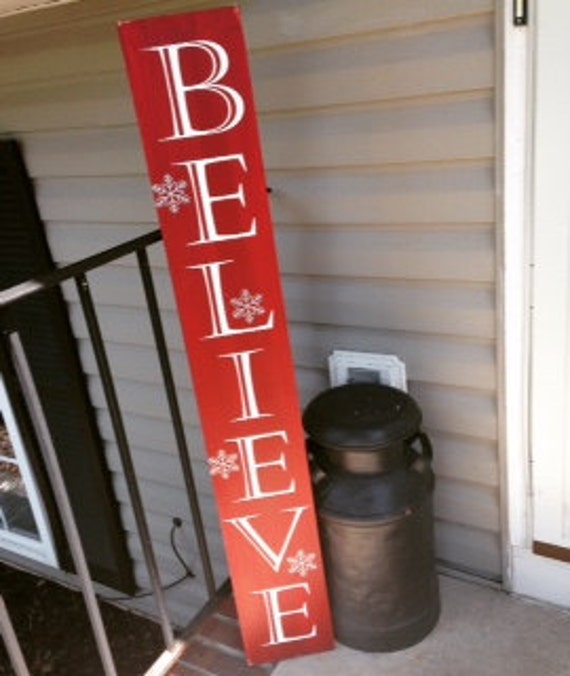 Believe Wood Porch SignCheck Price
&
The first sign features gold lettering along with glitter snowflakes. It does come with a protective coat so it can withstand being outside in the winter time. It's a very large decoration as it measures 72 inches tall and is 12 inches wide.
The second sign also features snowflakes along with the words "Believe." This sign is smaller but still a really good size at 4 feet tall and the red really stands out as well.
More Vertical Christmas Porch Signs
Put some joy into your holidays with these Christmas signs that work not only for your front porch or door as well as for inside your home.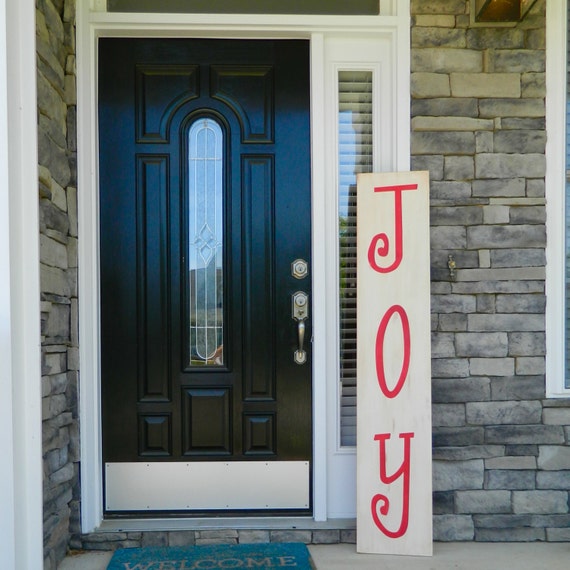 Large Joy Christmas Outdoor SignCheck Price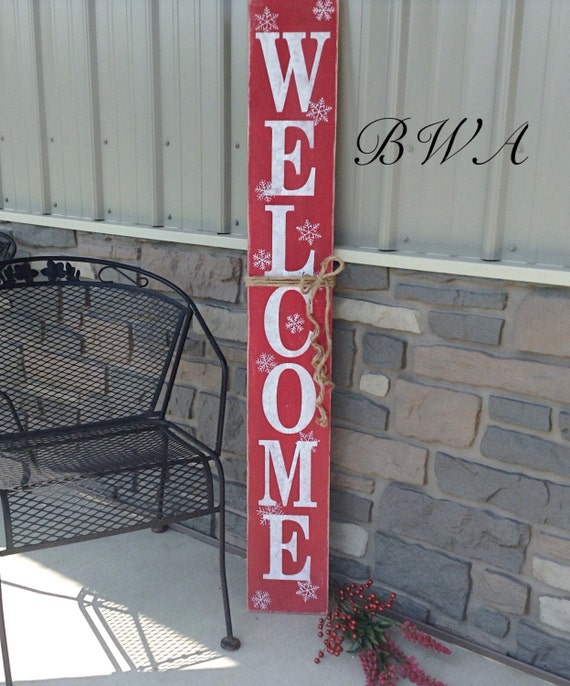 Welcome Porch Sign for ChristmasCheck Price
&
The "joy" sign is on the larger side as it measures 5 feet tall ans is almost a foot wide.
The "Welcome" sign has a sort of country or primitive appeal to it with the jute twine wrapped around it. This sign measures 54 inches and is 7 inches wide.
Reversible Christmas Thanksgiving Porch Sign Decoration
If you are looking to save some money or some room in your home when it comes to holiday decorations, you need to check out these neat signs that are reversible for Christmas and Thanksgiving (or fall time).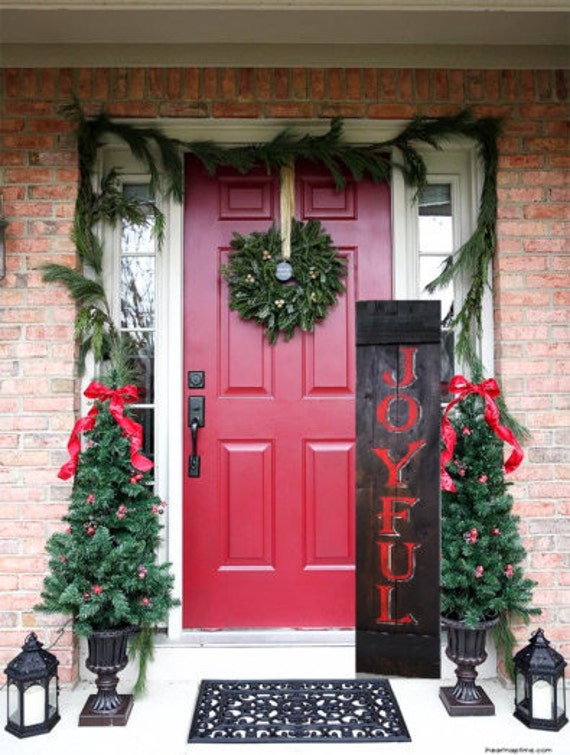 Reversible Christmas Thanksgiving Porch SIgnCheck Price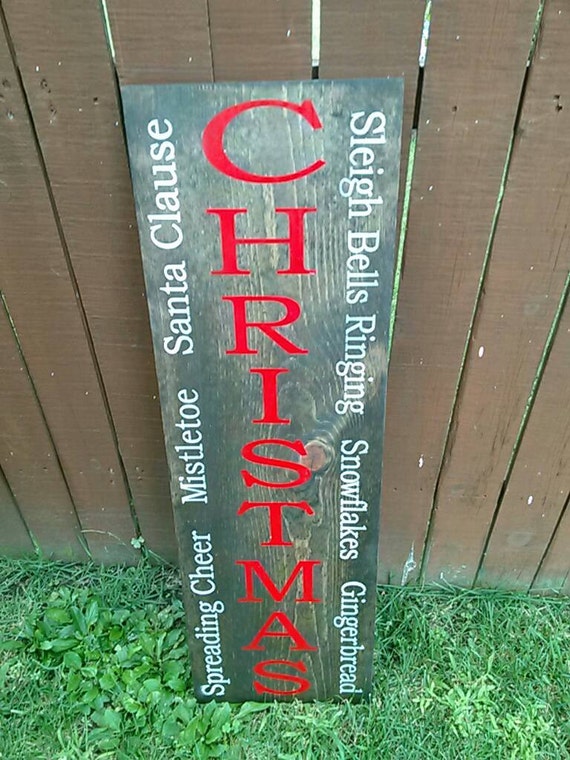 Christmas and Fall Porch SignCheck Price
&
The first sign reads "Joyful" on the one side for during Christmas time and the other side reads "Thankful" for displaying during Thanksgiving.
The second sign is one of the more unique ones as features special features of both Christmas and fall on the sign to show appreciation for the seasons. The Christmas side features things like Santa Clause and snowflakes while the fall side has things like pumpkins and crisp leaves.
Snowman Themed Porch Sign Decorations
If you simply love snowmen or know someone who does, then maybe these snowmen signs may be the best choice.
With these decorations you could even leave them up after Christmas time since they would be cute for a simple winter time decoration as well.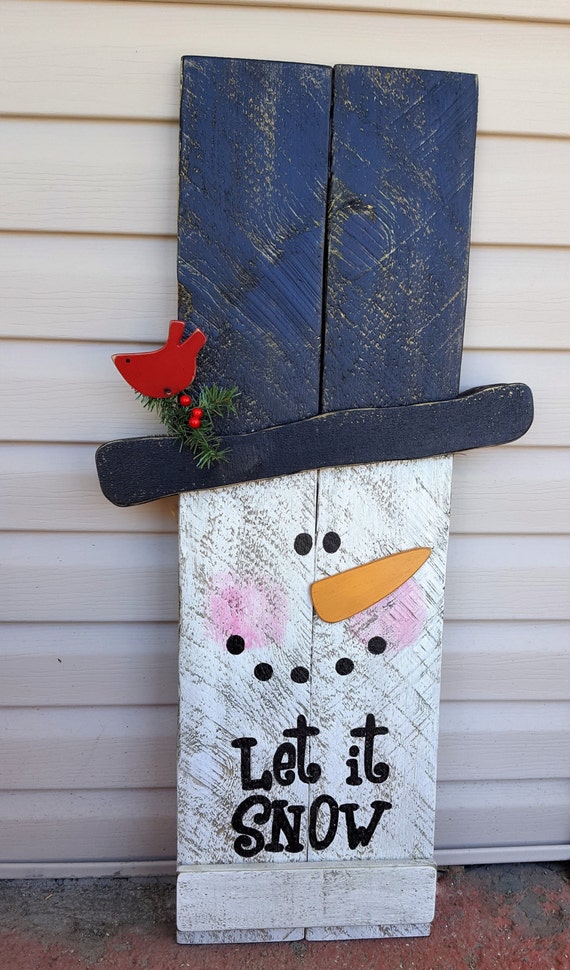 2-in-1 Reversible Snowman/Scarecrow Porch SignCheck Price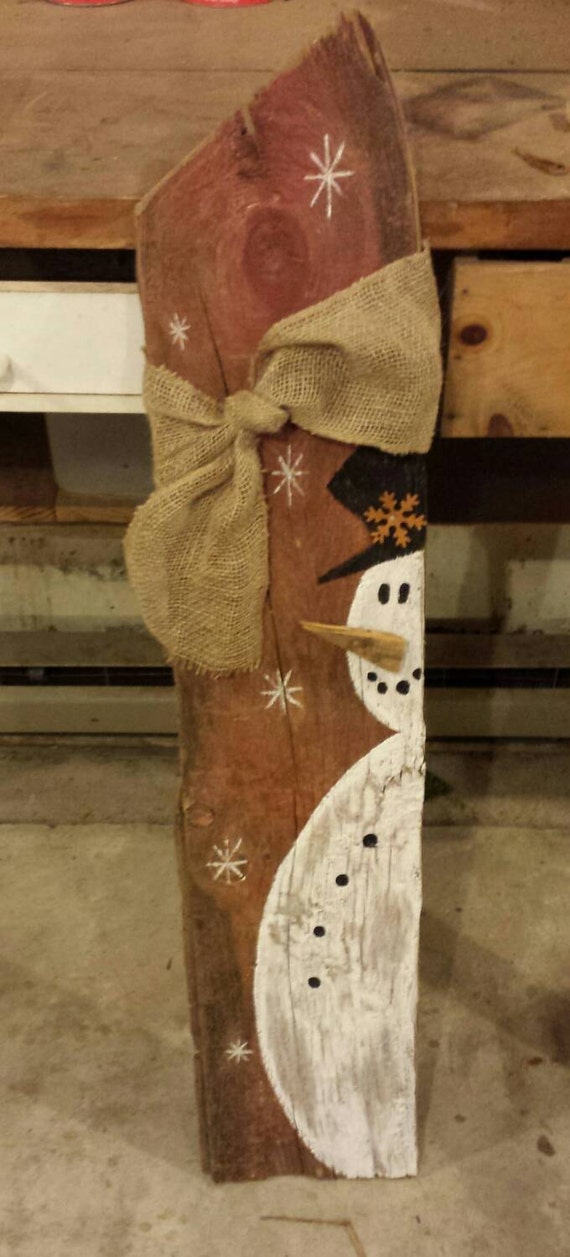 Country Snowman Wooden Outdoor SignCheck Price
&
The first decoration which features the friendly snowman with the red cardinal on his hat is also reversible. The other side has a cute scarecrow that is perfect for displaying during the fall.
The second snowman sign definitely has a country style to it and would be nice to add to other country or prim decorations for the holidays.
Personalized Christmas Porch Signs
If you want something personalized for your front of your home or even for your side or back porch check out these different options.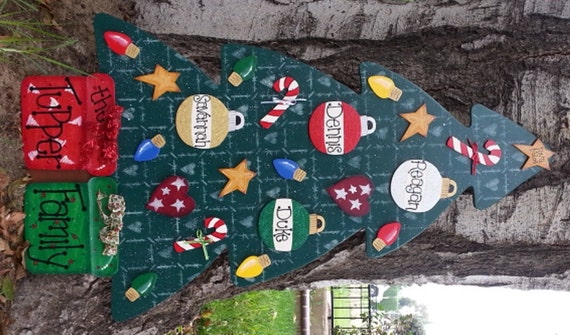 Personalized Christmas Tree Yard or Porch ArtCheck Price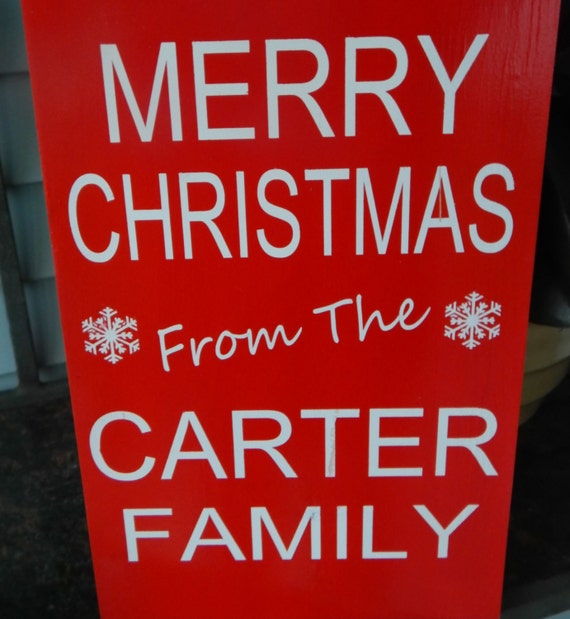 Personalized Christmas Outdoor Wooden SignCheck Price
&
These signs would be great for your front porch but could also be used to decorate your door or even your front garden area.
Christmas Porch Decorating Ideas
If you are interested in buying one of these signs for your porch and looking for some inspiration on decorating, here are a few ideas to help inspire the perfect holiday get-up for your home.
If you plan on using one of the larger signs (5 feet or taller) then the sign may be all that you need if you have a smaller porch, especially if you just have a small stoop or stairs in front of your home.
You can place the sign in the corner of your house or you can balance it against a side railing depending on the design of your porch. You want the sign to be able to be visible to visitors as well as to people driving by but you don't want it to be in the way of getting in and out of your door.
If you have a larger front porch or if you are lucky enough to even have a porch that covers almost your entire front of your home, then you can always add some more decorations along with your sign.
With a larger porch you can still place the sign by your front door or in the corner, but you do have more options. You can balance in front of porch column on top of the stairs or even place it in the middle of your porch in the middle of your rocking chairs.
Some other decorations that you could pair with the Christmas signs include a small Christmas tree (plain or decorated) and a wooden box or basket filled with Christmas trinkets such as ornaments or pine cones.
As mentioned you can even utilize the porch furniture you already have to enhance the sign. An example would be placing the sign on a small table you have on the porch or even on a chair so that it is more visible.
Get really creative and use something like a wooden wagon or wooden sled decorated with evergreen and ribbon on your porch. The rustic and country style signs would go perfect with this decorating idea.
Of course Christmas lights and green garland are great traditional decorations that could easily be paired with one of these signs as well.
Christmas porch signs are a great way to decorate the outside of your home and there truly are so many ideas that you can use to incorporate these decorations.
If you still want to check out more ideas for decorating your porch this Christmas or just see some more signs, I recommend Esty.com as you can find so many unique and quality items that you are sure to find something that fits your decorating style perfectly.