If you have a special police officer in your life you may be looking for the perfect police officer Christmas ornament to put on or under the tree this holiday.
When it comes to Christmas ornaments for police officers you may be surprised at just how many great choices you have to pick from.
There are ornaments that look like police badges while other ones are more on the comical side. You can even find personalized ornaments that allow you to have the cop's name and even badge number put right on the ornament.
These ornaments make a great Christmas gift, stocking stuffer or just a cute way to say "thank you" to the cop in your life.
Police Officer Christmas Ornaments
Here are some of the most popular Christmas ornaments for cops. These are basic ornaments that are bought as-is, so if you are looking for personalized ornaments check down the page a little further.
Old World Christmas Police CarCheck Price
Old World Christmas Police Badge OrnamentCheck Price
Serve and Protect Christmas OrnamentCheck Price
Police Hat with Badge Christmas OrnamentCheck Price
Personalized Christmas Ornaments for Police Officers
Giving a personalized ornament adds that special extra touch and shows that you really put thought and effort into your gift.
If you are looking for a personalized police officer Christmas ornament whether you want the person's name on the ornament or a badge number or simply the name of the city they work for, check out these ornaments below.
Policewoman Christmas OrnamentCheck Price
Police Man Christmas OrnamentCheck Price
Both of these ornaments are available in different variations so you can choose which one looks best for your police officer. You can also add the officer's name to the ornament to personalize it even more. This would even be cute for someone who recently got a ticket and you want to give the ornament to them as a little joke.
Here are even more ornaments that can be personalized that are little different than just a police officer.
Police Shield with Car Christmas OrnamentCheck Price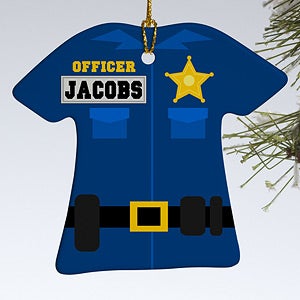 Personalized Police Uniform OrnamentCheck Price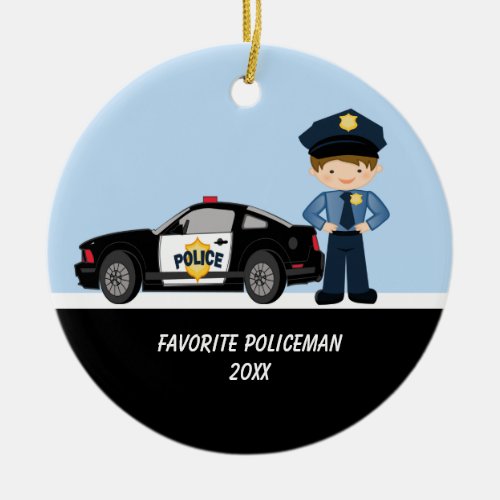 Policeman with Police Car OrnamentCheck Price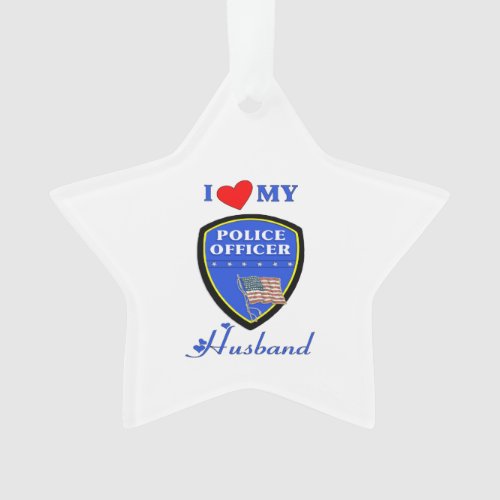 Police Husband Ornament – wife, dad, mom available as wellCheck Price
Fun Cop Christmas Ornaments
If you want to have a little fun with the cop in your life and are looking for more of a funny or cute ornament for the tree, check these out.
Police Donut Round Metal Christmas OrnamentCheck Price
Disney Policeman Mickey Mouse Christmas OrnamentCheck Price
Any of these Christmas ornaments would be perfect for the cop in your life whether they just graduated from the police academy of they are celebrating their retirement from the force this year.
Some of the ornaments would also be great for a little boy or girl who dreams of being a police officer one day. If you got them an ornament of a police cruiser with their name on it, how awesome would that be for the tree this year?