Finding good Christmas gifts for nursing home residents is definitely not always easy.
Most of the time you find that they really don't have a "need" for anything and considering they are short on space, it can be hard to find the right gift.
You may have to put a little more thought into the gift, but there are some wonderful gifts that you can buy for a loved one in a nursing home or assisted living facility. These gifts would also work for elderly seniors who may still live at home but are restricted due to health as well.
These gift ideas could also be used for birthdays and not just Christmas as well.
Christmas Gift Ideas For Nursing Home Residents
Make a Nursing Home Care Package
It's easy to forget about the basics that an elderly senior may need that they can't just run out to the store to get. You can put together a nursing home care package for your loved one so that they have all the supplies (and extras too) they may need on a daily or weekly basis.
Some items that are good to include are chapstick, lotions (pick ones that are good for sensitive skin and very mild smelling), soap, hand wipes, tissues, toothpaste, toothbrush, and air fresheners. You can place all these items in a nice basket that can also be used for storing the items or for decorative purposes in the room as well.
Here are some recommended items that are great for a Christmas care package for a nursing home patient.
Chapstick Lip Balm Variety PackMore Info
Kleenex Facial Tissue Pocket PacksMore Info
Wet Ones Antibacterial Hand and Face WipesMore Info
&
Flower Arrangement
Getting a beautiful flower arrangement can easily lift the spirit of your loved one. It's even better when you hand deliver a wonderful bouquet of her favorite flowers and get to spend some time with her at the nursing home as well.
You could even extend this past Christmas time and get her a new flower arrangement every couple of weeks to replace the one that may have died. It just gives that extra warm feeling to maybe an otherwise cold room.
Comfy Slippers or Warm Fuzzy Socks
Nursing home residents as well as just elderly seniors who live at home can always use some nice warm and comfy socks for the winter time.
If you plan on buying slippers just be sure that you buy ones that have a grip on the bottom and won't slide and cause any fall issues with the patient.
Favorite Homemade Treats or Foods
This is probably one of the best Christmas gift ideas for grandma in a nursing home. If she has a special recipe she used to make or a favorite dessert, bring it buy for a nice surprise gift.
Just be sure to check if your loved one is on a restricted diet so you can customize the treat before bringing in and realizing she can't have it.
If you are not much of a baker or chief, then you can still bring in some of her favorite snacks that she can keep in her room. This could be a small bag of her favorite chocolates or some crackers or pudding cups that she really likes.
Wheelchair Blanket or Lap Quilt
The elderly tend to run colder so a nice warm blanket is a great gift. For anyone who may be in a wheelchair you could choose a wheelchair blanket or just about anyone would like a lap quilt that they can wear while watching TV or reading a book.
Lightweight Wheelchair BlanketMore Info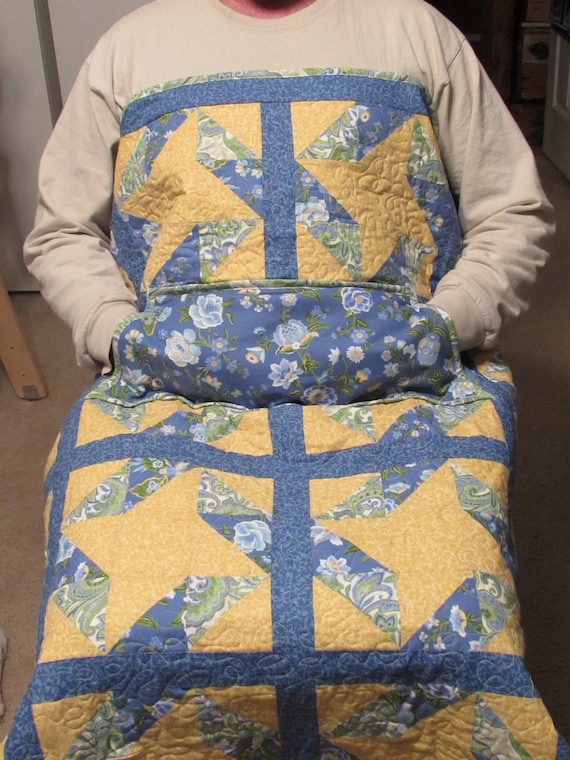 Custom Pocket Lap QuiltMore Info
&
CD's of Their Favorite Singers
You can find some pretty inexpensive CD's that you can pick up for the nursing home resident as a Christmas gift. You'll find all kinds of older singers on CDs from Frank Sinatra and Glenn Miller to Hank Williams and Patsy Cline. You can even find compilation CDs that offer a variety of music from certain decades or certain genres.
Casey Kasem Presents: America's Top 10 Through the Years – The 1950sMore Info
Songs That Got Us Through WWIIMore Info
The Only Doo-Wop Collection You'll Ever Need- 2 CS SetMore Info
&
If they don't have a way to play the compact discs, you can also find very inexpensive CD players to gift them as well.
Large Print Books or Books On Tape
If your relative enjoys reading still, find out what type of books they enjoy and buy a few of them in a large print. You could also choose a book on tape if they have trouble seeing and aren't really into reading the actual book but will listen to them.
There are some nursing homes that have a small library of books for residents to take and read. You could also consider donating some books to the general library at the home for other residents as well.
You can find great deals on books at Amazon and you'll find that they also have just about any book you could look for.
Best Gift Of All – Spend Time With Your Loved Ones In A Nursing Home
The very best Christmas gift for a nursing home resident is to simply spend time with them as much as possible. Although lots of people tend to want to make a difference during the holidays, as they holidays come and go, you get busy with your life and may not make as much time for visits. Make a promise to your loved on that you will come on certain days so they have something to look forward to. Mark it in your calendar and be sure to keep the date.
It could be a simple as 45 minutes every Wednesday to eat lunch with your grandma while on your lunch break for work. It could be dropping by every other Saturday morning to bring them breakfast that day. It doesn't have to be an all day commitment but just a 30 minute visit will light up their face.
Any of the above Christmas gifts for elderly seniors would really make the person's holiday. Of course, these gift ideas can also be used other times of the year including birthdays as well as just "thinking of you" gifts.