Although the idea of giving your kids just one Christmas present on Christmas Eve has been a tradition for years and years, the whole Christmas box idea for kids and toddlers is rather new.
The basis behind a Night Before Christmas box or a Christmas Eve box is to find a cute box just for your child that they can open on the day before Christmas and use those items to celebrate the holiday that day and night.
Some parents go all out with their boxes while others keep it simple with just a few things in the box.
Here are some ideas for not only picking out the perfect box to use for the gifts but what to include in your child's Christmas Eve box as well.
Christmas Eve Box Ideas
If you plan on making the Christmas Eve box a tradition every year with your child, then I would recommend you buy a nice box that can be used year after year for your child.
Of course you can always use an inexpensive Christmas gift box but being able to use the same box over every year adds that extra special touch.
Personalized Christmas Eve Boxes
Check out just some of the great personalized Night Before Christmas boxes that are available. Most can be personalized with your child's name as well as painted other colors as well.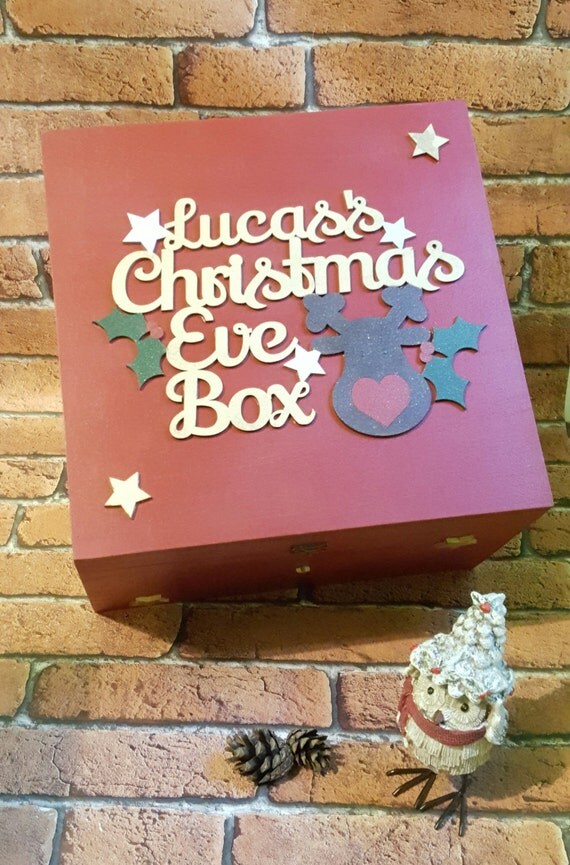 Personalized Wood Christmas Eve BoxCheck Price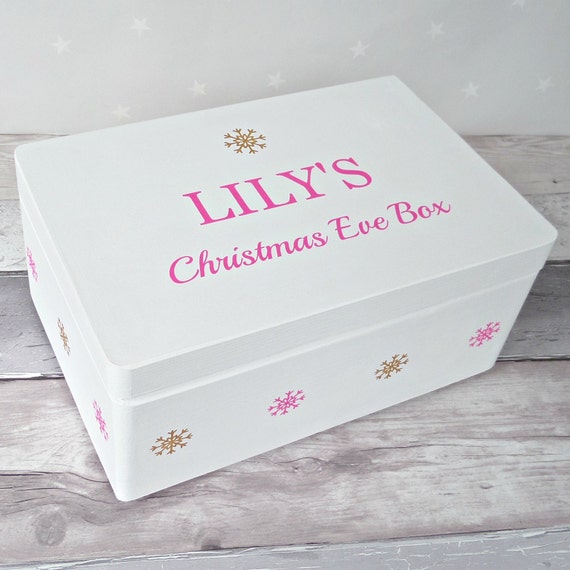 Snowflake Christmas Eve BoxCheck Price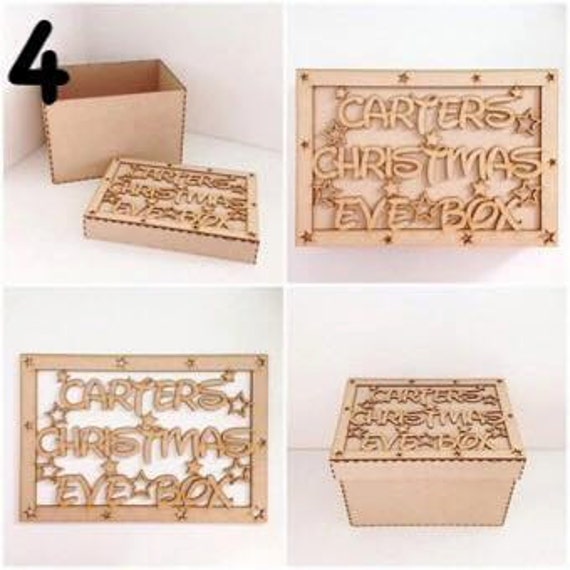 Personalized Wooden Christmas Eve Box – other styles availableCheck Price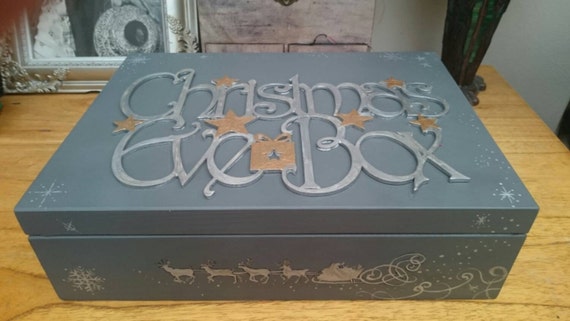 Personalized Hand Painted Christmas Eve BoxCheck Price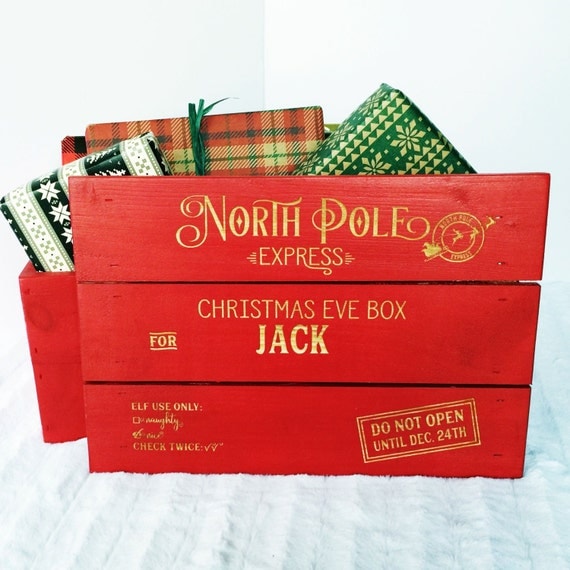 Personalized Christmas Eve CrateCheck Price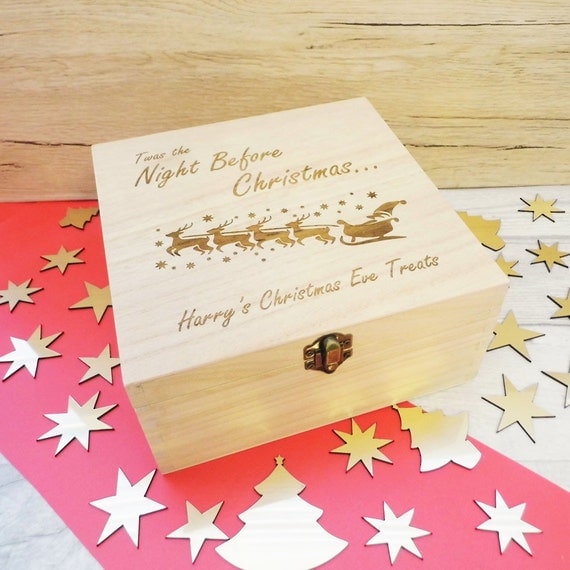 The Night Before Christmas BoxCheck Price
&
If you want a box that will last year after year and that you can re-use till your child is older, I recommend that you get a wooden Christmas Eve box. The wooden boxes will hold up a lot longer than the cardboard or paper boxes.
Even though the wood boxes may cost a bit more you will get your money out of them by using them over and over and keeping the tradition with the same box you used to start with.
One of the best places I have found to buy a good, quality Night Before Christmas box that you can use year after year is Etsy.com.
If you are looking for a simple, inexpensive Christmas themed gift box to use just for this year, check out your local dollar store or Amazon.com
What To Put In Your Child's Christmas Eve Box
Once you have found the perfect box for your child's Christmas Eve gift, you then need to figure out what exactly you are going to include in the box.
Here are some Christmas Eve box ideas for all types of great things you can include to make your child's night before Christmas extra special.
You can choose to go all out and include just about everything on the list or keep it simple and choose only 1 or 2 special items that you know your child will love.
Christmas Pajamas – There are all kinds of great Christmas themed pajamas for kids. You can go with a matching theme for all your kids or just choose ones that you know they will love.
To get more use out of the pajamas you can always go with more of a winter theme like snowflakes or snowmen rather than just a specific Christmas theme.
Slippers or Cozy Christmas Socks – Slippers or some cozy socks are perfect for pairing with the Christmas pjs. These not only work great for toddlers and kids but even teens like slippers and fun socks as well.
Christmas Movie – There are all kinds of great Christmas movies for kids that you can choose from. You can go with a classic movie that you children love or go with a new favorite they may
have never seen before.
You can get great deals on kids Christmas movies at Amazon.com especially as it draws closer to the holiday. It's not uncommon for some movies to be sold for $5 or less.
Here are some suggestions for movies to include:
Christmas Book – Cuddle up your kids and read one of your favorite Christmas stories. Just like movies, there are some really great holiday themed books to choose from as well.
If you want to stick with something classic, read Twas The Night Before Christmas to your kids.
Check out all the great Christmas books to include in your child's box at Amazon.
Hot Chocolate – A cup of hot cocoa is perfect for sipping while cuddling by the fire and watching a movie or reading a book with mom and dad.
Popcorn for the Movie – If you plan on watching any Christmas movies, you have to include some popcorn for a treat.
Personalized Letter from Santa – Make Christmas Eve even more special and include a personalized letter from the Big Guy in your kid's box.
You can find free templates that you can print online for a letter or you can even send away to get a personalized Santa letter in the mail to include in the box.
Special Ornament to Hang on the Tree – Get your child a new ornament to hang on the tree every year on Christmas Eve. This ornament could be something that they are really interested in right or it could be a Christmas themed ornament with their name and age on it.
Printable Christmas Coloring Page – You can find all kinds of neat free printable Christmas coloring pages that you can print and include in the box. This is a free special treat you can include that will also give you some time to cook or bake or get things done that you need to do while your child colors.
You can even make the coloring page a gift to Santa or another family member as well.
Craft Supplies for a New Christmas Craft – If your child is like mine they love doing crafts and look forward to anything they get to use glue or scissors for.
You can find Christmas craft kits or you can head to your local craft store and pick a simple craft you find online. Just taking the time to make the craft with them is one memory they won't forget.
Stuffed Animal Friend – This can be another added bonus gift for cuddling and watching a movie with a new stuffed friend. You can stick with a holiday theme or choose a new stuffed friend that they can enjoy all year round.
Reindeer Food – Make a simple batch of reindeer food and put it in a small baggie so your child can spread it on the lawn for the reindeer to eat while Santa is delivering presents to your house.
Reindeer food is made of dry oatmeal, glitter, and you can also add in red or green sugar as well.
Fun Christmas Accessories – Add any other fun Christmas accessories that you come across such as Santa hat, a jingle bell necklace, Christmas cups or plates, or a cool Christmas flashlight. You can check out your local dollar store for some cheap accessories that you can add into your kid's Christmas Eve box.
A fun idea for the box is to make it a certain Christmas theme for your children. For example if their pj's have snowmen on them you could go with a snowman theme and watch Frosty the Snowman along with a new snowman ornament and a snowman coloring page for them.
Other themes could include How the Grinch Stole Christmas or a Santa and his reindeer theme.
Of course you if you have more than one child you can always buy each one their very own box for Christmas Eve, or you can make your own family Christmas Eve box instead. In the family box you can include something for each child or just something that they can share such as a Christmas movie or book and a box of hot chocolate.
Hopefully these Christmas Eve box ideas help you start an awesome tradition with your kids that you can carry on year after year as your children look forward to December 24th so they can make some really great holiday memories with their family.
These are the types of memories that kids grow up never forgetting and they may even carry on the tradition of the Christmas Eve box with their kids.