Show off your patriotism and love of your country this Christmas with patriotic Christmas decorations and ornaments.
A patriotic theme or a red, white, and blue theme can be absolutely beautiful for Christmas time. Plus, if you have a loved one that is in any of the armed forces it can be a nice way to show tribute for what they do for their country.
There are all kinds of great patriotic ornaments and decorations for Christmas. In fact, you can do your whole tree in just red, white, and blue very easily with any of the ornaments below.
Patriotic Christmas Ornaments
Stars and Stripes Ball OrnamentsBuy Now
Flag Barn Star Christmas OrnamentBuy Now
Uncle Sam Patriotic SnowmanBuy Now
Support Our Troops Eagle OrnamentBuy Now
Support Our Troops Christmas Tree OrnamentBuy Now
Patriotic Santa OrnamentBuy Now
God Bles America Ornament SetBuy Now
Statue of Liberty OrnamentBuy Now
America the Beautiful OrnamentBuy Now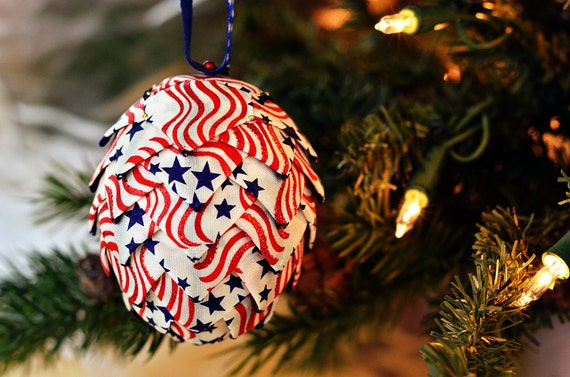 Handmade Patriotic Pine Cone OrnamentBuy Now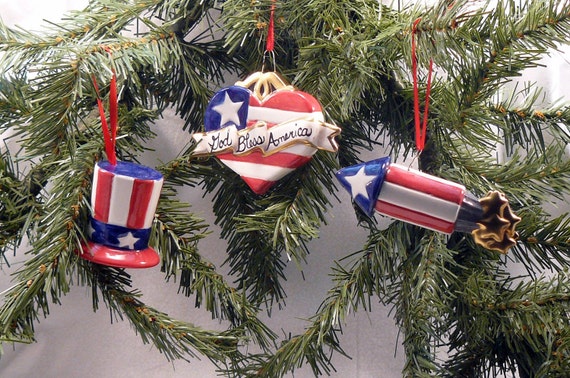 Set of 3 Patriotic OrnamentsBuy Now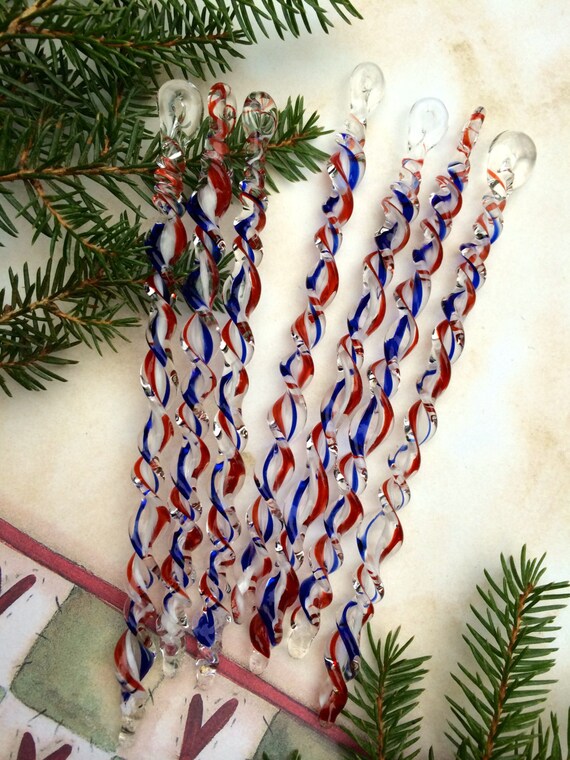 Red, White, & Blue Glass Icicle OrnamentsBuy Now
These ornaments would be great for gifts or for your own tree. They would go great with a patriotic theme or a red, white, and blue theme for your tree. But you definitely don't have to have the themed tree to enjoy these ornaments.
If you are planning on a patriotic or red, white, and blue Christmas tree you can always add in some solid colored ornaments to go along with these on the tree.
Matte Red Shatterproof Christmas Ball OrnamentsBuy Now
Shatterproof Matte Royal Blue Christmas Ball OrnamentsBuy Now
Shatterproof Winter White Various Finish Christmas Ball OrnamentsBuy Now
If you are doing a red, white, and blue themed Christmas tree you can also include some colored garland to really add some interest to the tree. You could even find garland in each one of the colors and mix it together to really give a patriotic look to the tree.
Patriotic Christmas Decorations
If you are looking for more than just ornaments for your patriotic theme, check out all these great Christmas decorations for your home.
Wooden Uncle Sam NutcrackerBuy Now
Patriotic Santa DecorationBuy Now
Uncle Snowman Garden/House FlagBuy Now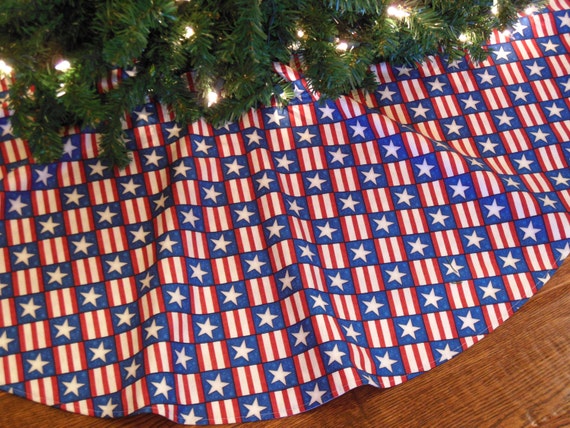 Patriotic Christmas Tree SkirtBuy Now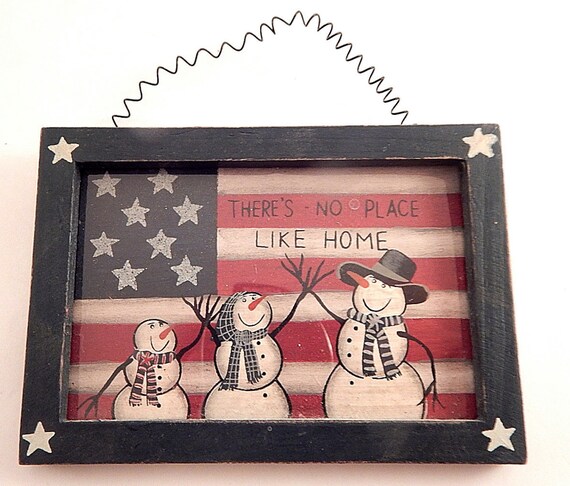 American Flag Snowman Christmas Mini SignBuy Now
Patriotic Christmas Garden Flag 35009Buy Now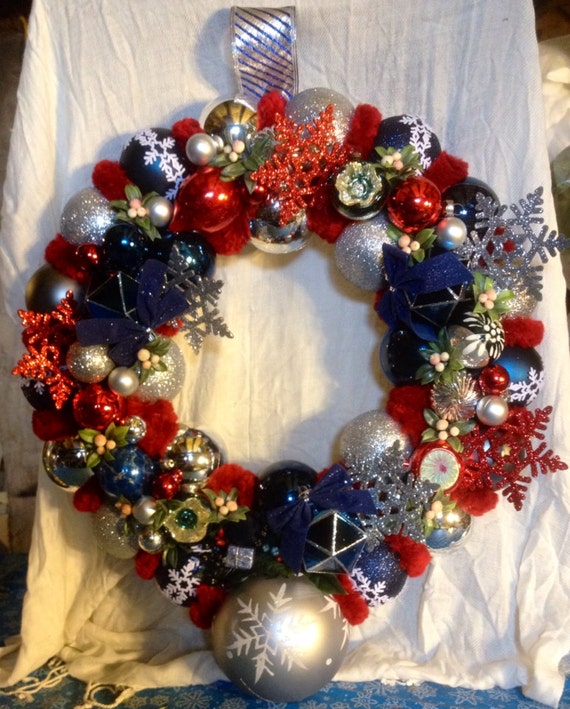 Red, White, & Blue Christmas Ornament WreathBuy Now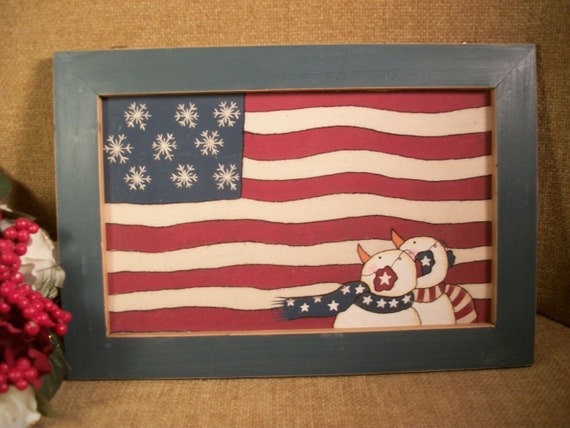 Snowman Honor the American Flag HangingBuy Now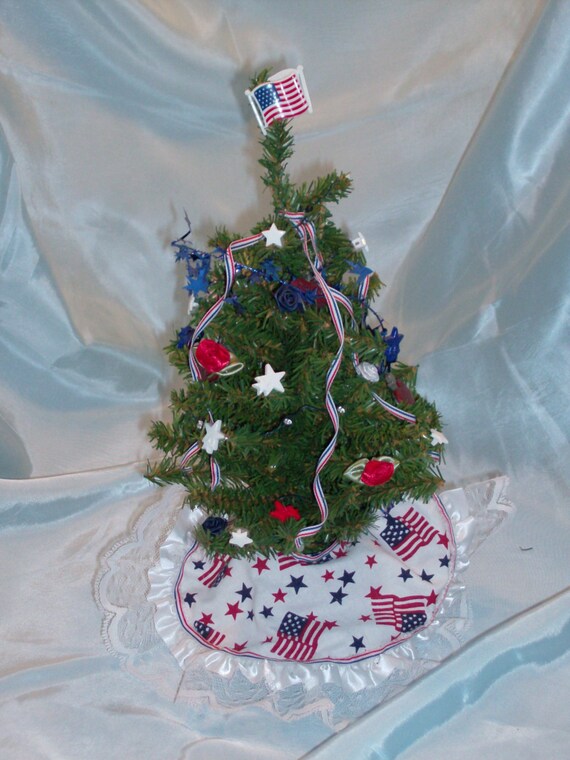 Patriotic Mini Christmas TreeBuy Now
These decorations give you a chance to decorate your outdoors (with the flags) as well as inside of your home.
Patriotic Christmas Stockings
You can even carry your patriotic theme throughout all your Christmas decorations with these patriotic Christmas stockings. There are a few different designs and styles to choose from depending on which one appeals most to your liking.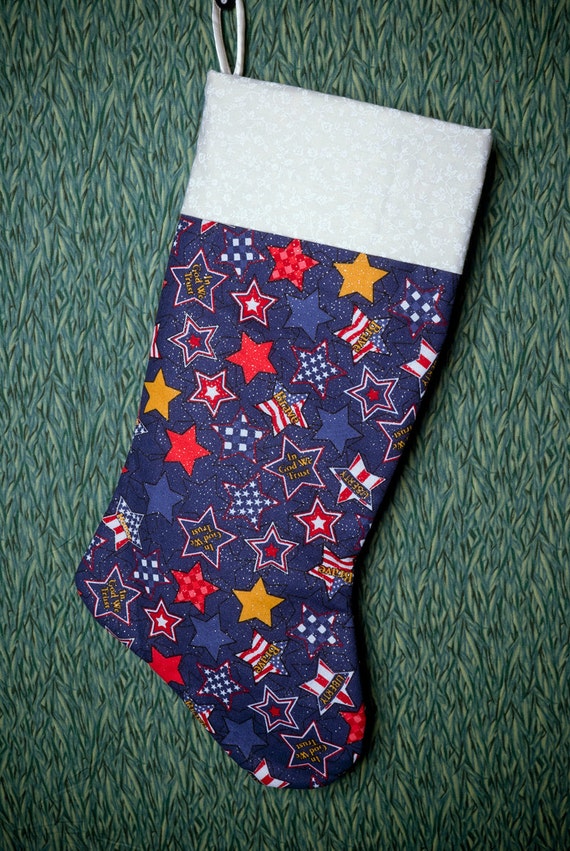 Patriotic Stars Christmas StockingBuy Now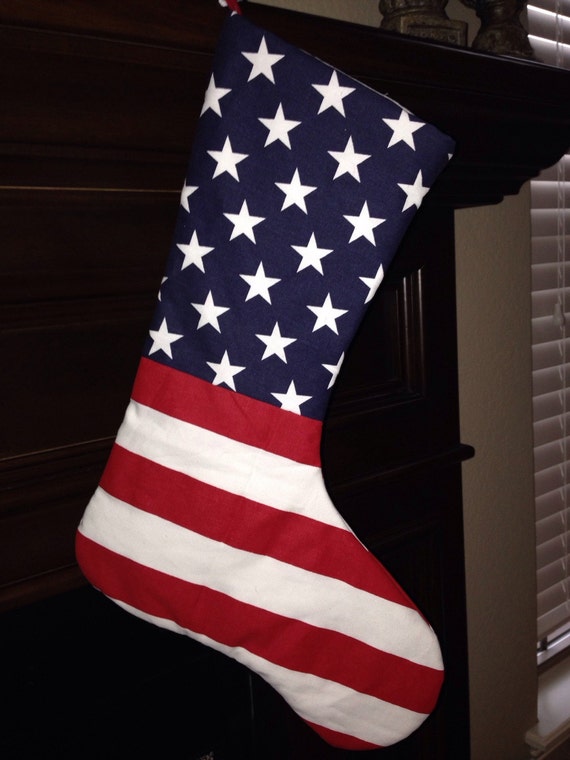 Stars and Stripes Christmas StockingBuy Now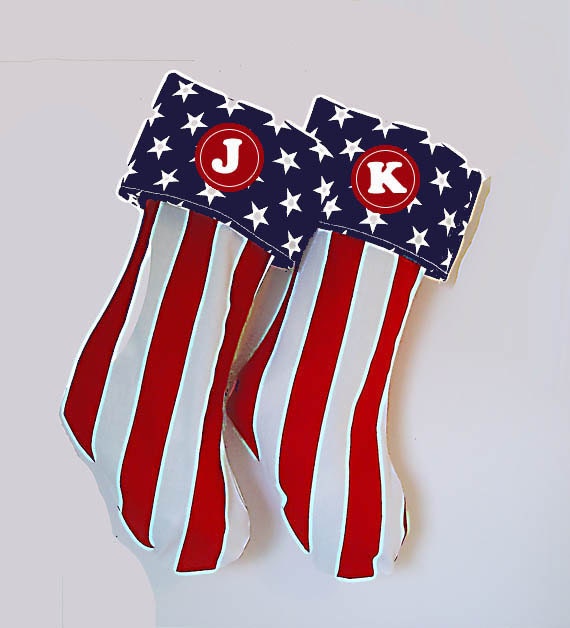 Personalized Patriotic StockingBuy Now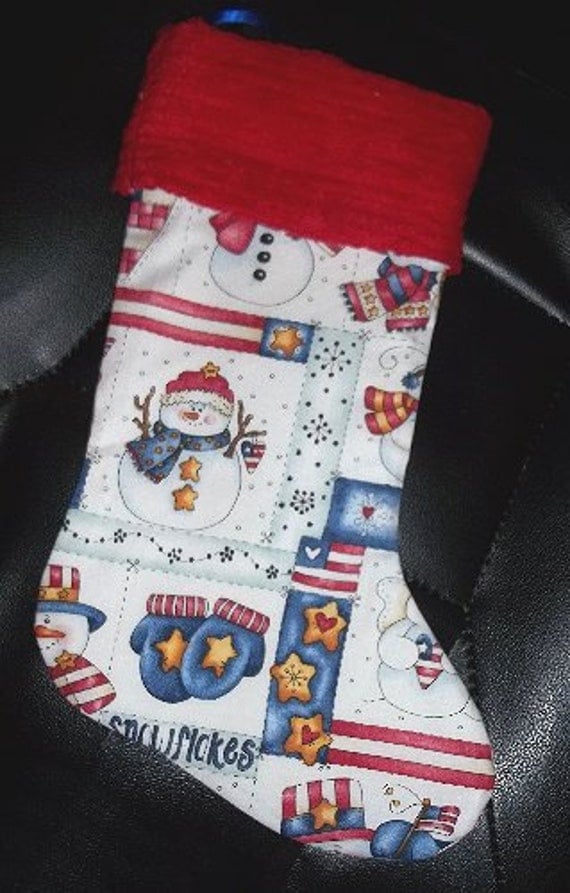 Patriotic Snowman Christmas StockingBuy Now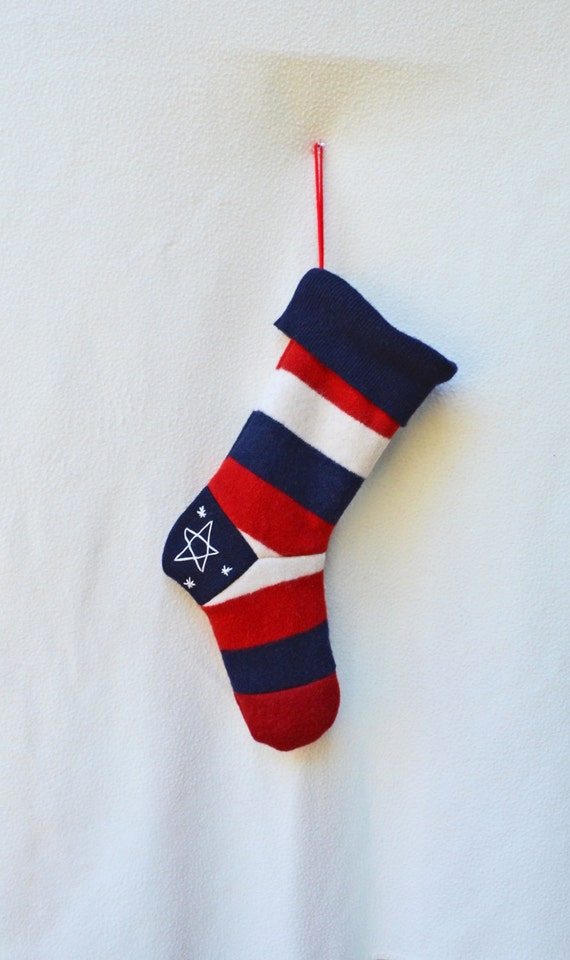 Red, White, & Blue Felt StockingBuy Now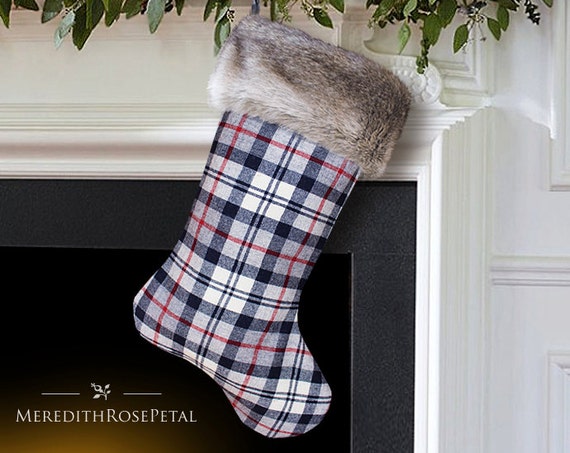 Fur Trimmed Plaid Red, White & Blue StockingBuy Now
Most of the stockings above can even be personalized with a name or initial to make them extra special for you or a family member.
Patriotic Christmas Tree Toppers
If you are planning on having a patriotic Christmas tree or you just want something different than your normal tree topper, why not check out this patriotic tree toppers including stars as well as other designs.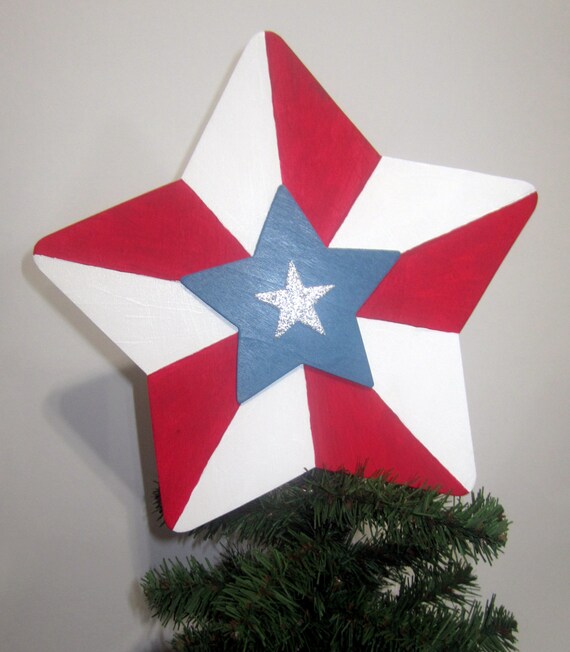 Patriotic Star Christmas Tree TopperBuy Now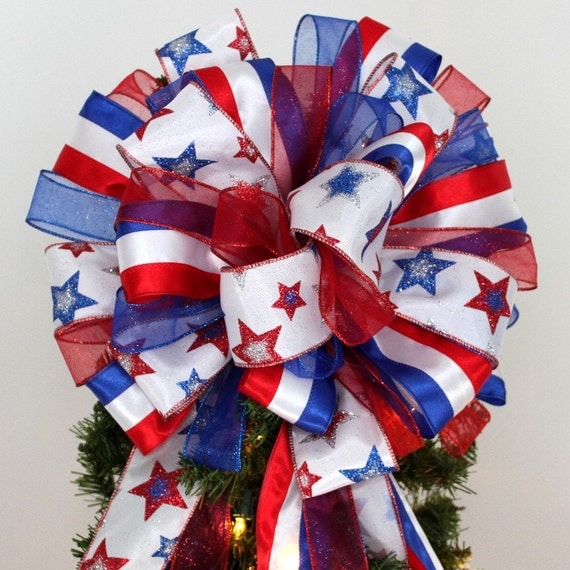 Stars & Stripes Bow Tree TopperBuy Now
Primitive Rusty Tin Americana Star Tree TopperBuy Now
With all these different patriotic Christmas decorations and patriotic Christmas tree ornaments and toppers you have just about everything you need to have the perfect patriotic Christmas theme in your home.
These items also make really nice gifts for any military families or any veterans who would really appreciate the fact of celebrating the holidays while remembering how great their country is.
Be sure to check out the Christmas ornaments for police officers as well as ornaments for firefighters.