If you know a girl who became a big sister this year, why not celebrate that occasion with a special big sister Christmas ornament.
These make great gifts for your daughter, granddaughter, niece, or just a friend of the family.
It can be her very own proud Christmas ornament showing off that she is now the big sister in the family. It's ornament she can have for many years and even look back on as a fond memory for that Christmas.
There are a few different big sister Christmas ornaments that you can choose from depending on how old the girl is as well as what style of ornament you are looking for.


Blonde Big Sister with Baby Christmas OrnamentBUY NOW
This adorable ornament features a little girl with blonde hair proudly holding a little baby. There is room for the ornament to be personalized with the big sister's name as well as year.
Brunette Big Sister Holding Baby Christmas OrnamentBUY NOW
This is the brunette version of the big sister ornament so that you can get an ornament that most closely resembles the little girl.
Polka Dot Big Sister Glass Ball OrnamentBUY NOW
This cute Christmas ornament can also be personalized with the big sister's name. It has purple polka dots and reads "Big Sister" and would look cute on any Christmas tree.
Big Sister Owl Snowflake OrnamentBUY NOW
These cute little owls are perfect on the ornament to represent the big sister. The ornament is in the shape of a snowflake and the image is printed on both sides.
I'm the Big Sister Glass Ball Christmas OrnamentBUY NOW
Show her how special she is with this round ball Christmas ornament featuring a little girl drawing with "I'm the Big Sister" written over the top. The gift box shown is included as well.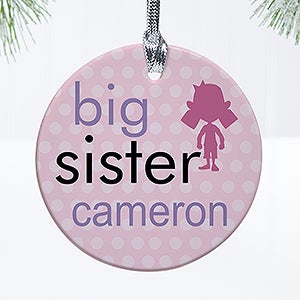 Personalized Big Sister Christmas OrnamentBUY NOW
This ornament gives you 4 different options to choose from. The big sister ornament features pink polka dots and then you can have the girl's name printed on it as well. This would be a cute gift for a big sister and her baby brother or sister to get for Christmas.
Big Sister Banner Christmas OrnamentBUY NOW
This ornament is great if you are looking for more of a Christmas themed ornament for the big sister. The bottom banner is a great spot to write the girl's name in and even add a year for here to treasure as she gets older.
In my family we enjoy giving a special Christmas ornament every year to remember that specific year by. A big sister ornament would be a great gift if your family follows this tradition or you can simply start your own tradition with these extra special big sister Christmas ornaments.