Wondering what to get your military boyfriend for Christmas?
Even though you may be the one person who knows your boyfriend the best it can still be hard trying to find the perfect Christmas gift for him. If you have a boyfriend in the military you can definitely find some gifts that not only relate to his military experience but also are just in general great gifts for a boyfriend.
I've come up with a guide of good gifts for military boyfriends whether you are fortunate enough to have him home with you this holiday as well as if you have to spend Christmas apart this year.
*Most of these presents also make great birthday gifts for your military boyfriend as well.
Good Christmas Gifts For Your Military Boyfriend
Framed Military Recognition Plaque 
 Framed Navy GiftCheck Price Air Force Framed GiftCheck Price Army Framed GiftCheck Price
These are just a few samples of the type of framed recognition plaques that you can choose from as there are other military branches to choose from such as the Marines and the Coast Guard. There are also other designs for these branches as well.
These frames are a great way for a girlfriend to honor their military boyfriend and give him a recognition gift for serving our country.
These gifts are special because they show you took extra time to get them personalized just for him.  This isn't a gift that you just got at your local discount store but really took the time to get something to show him how much you appreciate him.
You'll find that these frames can also be customized several different ways so you'll be sure to find one to honor the service of your man.
You can find more options for these frames at Etsy.com.
Romantic Gifts To Let Him Know He Has Your Heart 
If you want to go a bit more romantic with your Christmas gift this year, here are a few ideas to show how much you love him no matter how far or near he may be.
Personalized I Carry Your Heart  Dog Tag Necklace Set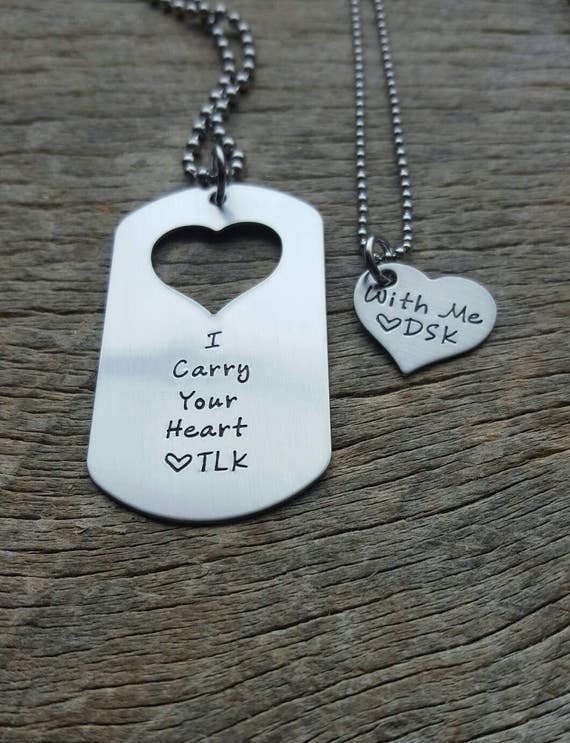 I Carry Your Heart Dog Tag Necklace SetCheck Price
You can customize this hand stamped necklace with your initials as well as your boyfriend's initials to make the gift extra special for both of you. This way each one of you can have a reminder of your love wherever you may be.
This makes for a great gift for any deployed military member as well as one who may still have to spend long hours away training or on other assignments.
This isn't the only option for this necklace set either as there are also key chains and other designs to choose from as well.
Personalized Swiss Army Knife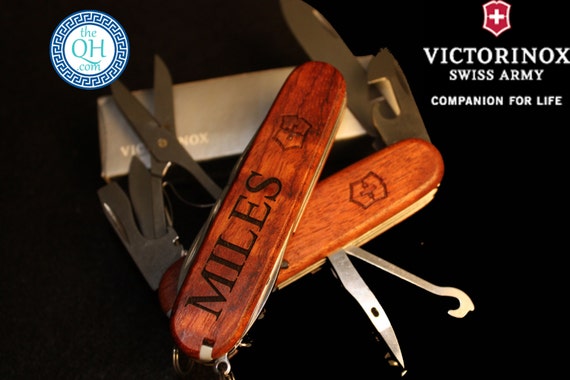 Personalized Swiss Army Multi-Purpose ToolCheck Price
This is a classic, must-have tool for all men. Even if your boyfriend already has a multi-tool or pocket knife this gift has an extra special touch with the personalization.
It can be customized on the front and/or back with your man's name as well as even your initials or a special date as well. It is laser engraved so the customization won't wear off from use of the tool.
This is an excellent quality tool as well as it is an authentic Victorinox Swiss Army Knife. It comes with 15 tools in one and is still small enough to easily fit in the pocket of jeans or a coat.
Customized Engraved Wood Watch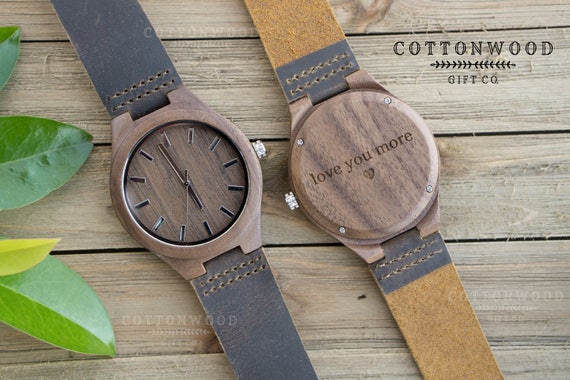 Personalized Engraved Wood Watch For MenCheck Price
This watch has a classic but unique style in that it is crafted from walnut wood and finished off with a real leather band.
The watch can be engraved with your choice of a short note or with your name on the back of the face of the watch.
This makes it nice for a military boyfriend as he can wear it when he has to go away or is working for the day since it is a sturdy, quality watch. But it is also nice enough to be worn with dressier outfits as well.
These wood watches are becoming more popular with men but are still unique enough that you don't see many around.
There are a few different style of wooden watches to choose from.
Unique Military Themed Christmas Gifts For Him
You'll find all sorts of presents from ones that you can share with your guy to ones that he can use for all sorts of hobbies or interests he may have. You'll find most of the ones below have some sort of reference to the military.
Keep scrolling down to see more present ideas that don't have anything to do with the military but are great general gift ideas for your man.
Personalized 20mm Bullet Bottle Opener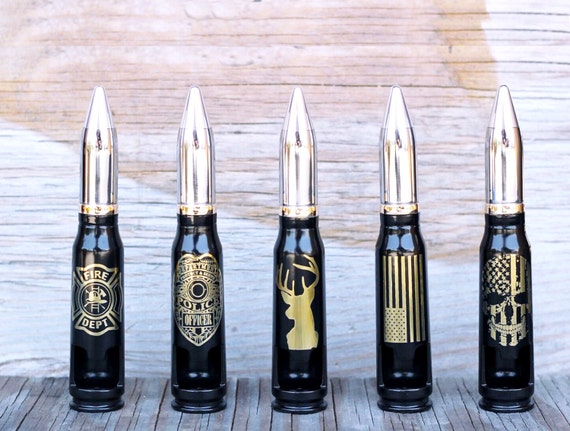 20mm Bottle OpenersCheck Price
These are really fun in that the bottle opener is actually made from a 20mm bullet that is then engraved with a different symbol as well as can be personalized with a name or initials.
If you are looking for a Christmas gift for a military man then you would probably want to go with the American flag on the opener or even the skull with the flag on it.
This is definitely a different type of present and definitely shows some thought was really put into the gift. It's something he can carry around with him or just leave at home for when he is relaxing during down time. The bottle opener is so nice that it can even work as a display item.
There are also other bullet bottle openers including a 50 caliber and a 30mm.
Military Challenge Coin Display Rack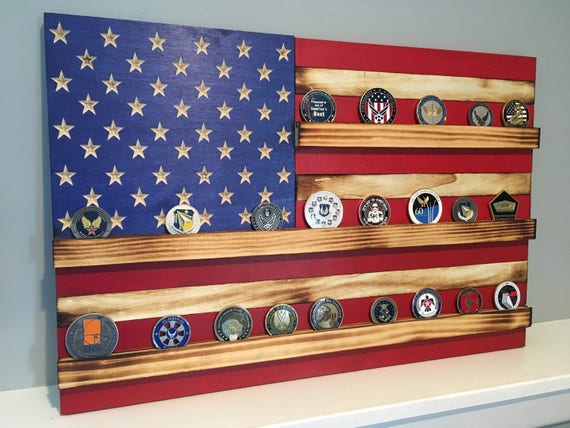 American Flag Challenge Coin Display RackCheck Price
Your boyfriend will love showing off all his honers and achievements with this absolutely beautiful challenge coin display rack.
It will hold up to approximately 40 challenge coins and is perfect for that rustic American pride look. It can easily be mounted on the wall.
With this type of gift you are really showing your significant other how proud you are of him and want him to be able to remember all he has done for our country.
This really is a must-have item for any military member no matter how long they have been in the service.
You can also check out my Christmas gifts for veterans to find some other ideas on what to get your military significant other as well.
Customized Military Rank Underwear For Her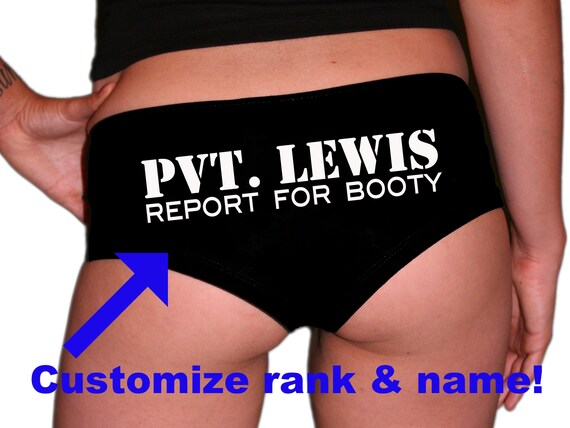 Customized Military Rank Panties for HerCheck Price
So this really isn't a Christmas present he will unwrap under the tree but is a great surprise that he can unwrap Christmas night in the bedroom.
He'll know that you are all his with this gift.
This is a cute little surprise that you can add into another gift for your man to put a big grin on his face.
There are other customized underwear options as well with slightly different such as "Prperty of" as well as other sayings related to specific branches of the military.
This is a really fun gift for both you and him!
Personalized Military Engraved Extra Large Beer Mug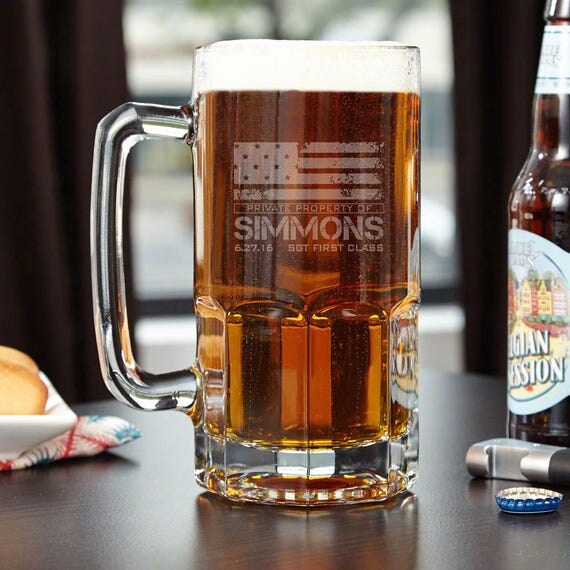 Military Themed Beer MugCheck Price
If your boyfriend likes to enjoy a nice cold brew to relax on his time off, then check out this huge personalized beer mug featuring an American heroes design.
The mug can be customized with his name, title and even a date.
This is the type of gift that keeps on giving as he can use it all the time as well as even add it to a beer mug collection he may have displayed at home.
Along with this beer mug you should also check out the American heroes designed beer can and bottle holders as well.
More Christmas Gifts For A  Military Boyfriend 
Here are a few more options when it comes to a good gift for your military boyfriend.
These gifts have a little less to do with being in the military but instead most are great Christmas gift ideas for any boyfriend.
If your significant other is going to be deployed anytime soon, keep scrolling below to check out even more gift ideas.
Tickets To Sporting Event or Concert
You can't go wrong taking him to see his favorite band or singer or even getting him some good seats at his home team's games.
Of course you can make this gift even more special by not only attending the event with him but buying a shirt or some type of apparel or accessory to go with the tickets.
Quality Bluetooth Headphones
TaoTronics Wireless 4.1 Magnetic Bluetooth EarbudsCheck Price At Amazon
Bluetooth headphones are perfect for your boyfriend's workout sessions whether he likes to hit the gym or run outdoors.
The nice thing about this gift is that he can use them for more than just his workouts. He can listen to music while commuting or even use for making phone calls as some even have a built-in mic.
There are lots of really expensive Bluetooth headphones but not all of them have great reviews. In fact some of the best Bluetooth headphones or earbuds don't cost more than $30 but still do a great job at noise cancelling and not skipping while moving about.
Video Drone
Holy Stone RC Drone With HD WiFi Live Feed CameraCheck Price At Amazon
Drones have become quite popular in the past few years and for most guys they are simply just a lot of fun.
Between being able to fly the drone with the remote control and then also being able to take video with it, this is one Christmas gift that will be a hit.
The drone can simply be used for having fun but can also be used to take videos of special memories from parties with friends to even vacations.
Although you will find professional video drones can cost you several hundred dollars you can buy your guy an excellent rated video drone for under $100, like the one pictured here to the side.
Smart Watch
Keep your boyfriend organized and on time for training as well as his dates with you with a Smart watch.
These smart watches act as an extension of your phone that allows you to check email, texts, and even surf the web or play games.
They also have other benefits like being able to monitor your steps, hear rate as well as sleeping patterns.
Depending on what type of phone and devices your boyfriend use will depend on what type of Smart watch to buy.
If he is an Apple user and has an iPhone then go with an Apple watch series 2.
If on the other hand you uses Android devices check out the Pebble Time smart watch which is compatible with both Android and Apple phones.
Fitbit 
Fitbit Charge 2Check Price At Amazon
Sort of staying on the smart watch gift you can also go with something a little different but just as cool and buy him a Fitbit.
A Fitbit allows him to track his activity from how many steps he has taken and how many calories he has burned. It also tracks things like sleeping cycles and certain versions also constantly track your hear rate.
This type of activity tracker is perfect for the active military guy who wants to keep on track with his physical training and not have to mess around with phone apps or anything of that sort.
Just like a smart watch though it also can be used in conjunction with your phone to see text messages, calendars alerts and even incoming phone calls.
It comes in several different styles and options but I recommend you check out the Fitbit Charge 2 for one of the best options.
Gift Card To Favorite Store or Restaurant
If your partner is hard to buy for or he simply has just about everything he could want, then consider just buying him a gift card to his favorite store or restaurant.
You can make the gift card extra special by including a special note that lets him know you will be accompanying him to his favorite store and/or restaurant and making it a special date night as well.
Some stores that he may enjoy a gift card to include sporting good store, department store, certain clothing store or a certain store that specializes in his hobby.
You can also add on a gift card to another part of his holiday present if you simply just want to buy him another present but not sure what to get.
Christmas Gifts For Deployed Boyfriends
If your guy is going to be on deployment during the holidays or is going to be deployed soon after Christmas, the Christmas gifts you choose for your military boyfriend may be a little different.
One of the best gifts for any deployed military person is a care package packed with all of their favorite things as well as essential items. There are some really cute ways that you can make the care package and you can definitely dress it up for Christmas time as well.
Here are some ideas of items to include for your Christmas gift care package for your boyfriend (or any relative or friend who may be deployed during the holidays):
Favorite snacks and candy
Picture of you and him
Favorite homemade Christmas cookies
Energy bars
Protein powder drinks
Baby wipes
Mouthwash and toothpaste
Lip balm
Pens, paper, and stamps
Small game or puzzle book
Special note from you
Be sure to check out packing restrictions such as size and weight before you go to mail your box. Also remember that your box is going to be moved around quite a bit and it will take at least 10-14 days to get to your soldier. Pack carefully and try to cushion items as best as possible.
I recommend checking out Military.com for more tips on sending a Christmas care package to your deployed boyfriend.
A Few Stocking Stuffer Ideas For Your Boyfriend
Stocking stuffers can be used to help complete your gift or even make your man his very own Christmas stocking stuffed with goodies.
Be sure to check out these cool military Christmas stockings before you even get the stuffers though. These would be absolutely perfect for any military boyfriend as you can personalize with his name and fill them to the top with special gifts and treats just for him.
Choose from the Army, Navy, Air Force and Marines.
Once you bought the stocking for him, here are some simple stocking stuffers to choose from.
Cologne or body spray
Favorite candy or chocolate
Winter hat or gloves
Water bottle ( I recommend a stainless steel one)
Fun stress ball
Coffee
Homemade cookies
Mini liquor bottles
Flashlight
Hand warmers
Car air freshener
The best Christmas gift for your military boyfriend is one that comes from your heart. Of course you know him best so maybe one of the items in the guide sticks out for you while for someone else it may be something different.
Remember to always cherish the time you have together with your partner and make this the best Christmas ever no matter what you buy for him.