If you like to decorate outdoors around your house, don't forget your mailbox this year.
You don't have to spend a lot of time on decorating your mailbox for Christmas as there are plenty of simple and easy ideas that will only take you a few minutes, but still look great.
The way you decorate your box for Christmas will depend on the size and style of your mailbox but there are some general ideas that will work for most traditional mailboxes.
5 Simple Ways To Decorate Your Mailbox for Christmas
Christmas Mailbox Covers and Wraps
Probably one of the easiest ways to decorate your mailbox for Christmas is to get a magnetic mailbox cover that has a fun Christmas theme.
There are all kinds of great mailbox covers for Christmas as you are sure to find one that fits your decorating style or theme.
Here are some of the more popular covers and wraps for the holidays.
Merry Christmas Chalkboard StyleCheck Price
Christmas PoinsettiasCheck Price
Christmas Manger SceneCheck Price
Fun Merry ChristmasCheck Price
Snowman – Bring On The SnowCheck Price
O Holy Night Christmas SceneCheck Price
&
All of these mailbox wraps are designed to fit a standard size 18 x 21 inch metal box. There are magnetic strips that easily hold the wrap onto the mailbox but won't damage the box.
Some of the designs above also have matching garden flags if you are interested as well.
Christmas Evergreen Mailbox Swag Decoration
Another simple way to decorate your mailbox for Christmas is using a beautiful evergreen swag decoration.
These swags can be bought or you can buy the supplies at a craft store and make your very own if you wish. You'll even find some mailbox swag decorations that have lights that are set on a timer so it adds even more of a special effect to your box.
The swag simply goes over the top of your mailbox and attaches on with some string or some fasteners that can wrap around the box.
Here are a few swags that you can check out or you can find plenty of DIY ones on YouTube if you are crafty.
Natural Evergreen LED SwagCheck Price
Cordless LED Evergreen SwagCheck Price
Red Bow with Berries and Pine ConesCheck Price
&
Christmas Ribbon Bow Mailbox Toppers
If you want something a bit different than an evergreen swag for your mailbox, then there are also some really wonderful mailbox toppers made from ribbons and other trinkets and accessories.
These ribbon toppers tend to be more on the whimsical and fun side where the evergreen ones tend to have more of a classic Christmas style.
Again, you can make your own ribbon topper if you feel crafty or save yourself even more time this holiday and buy one of the pre-made ones below.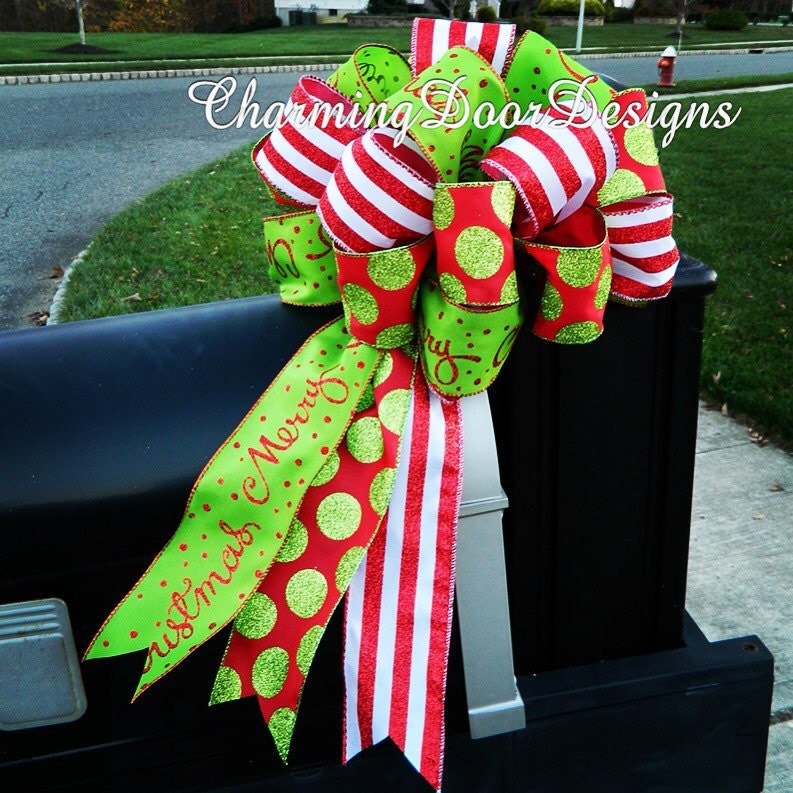 Whimsical Large Bow TopperCheck Price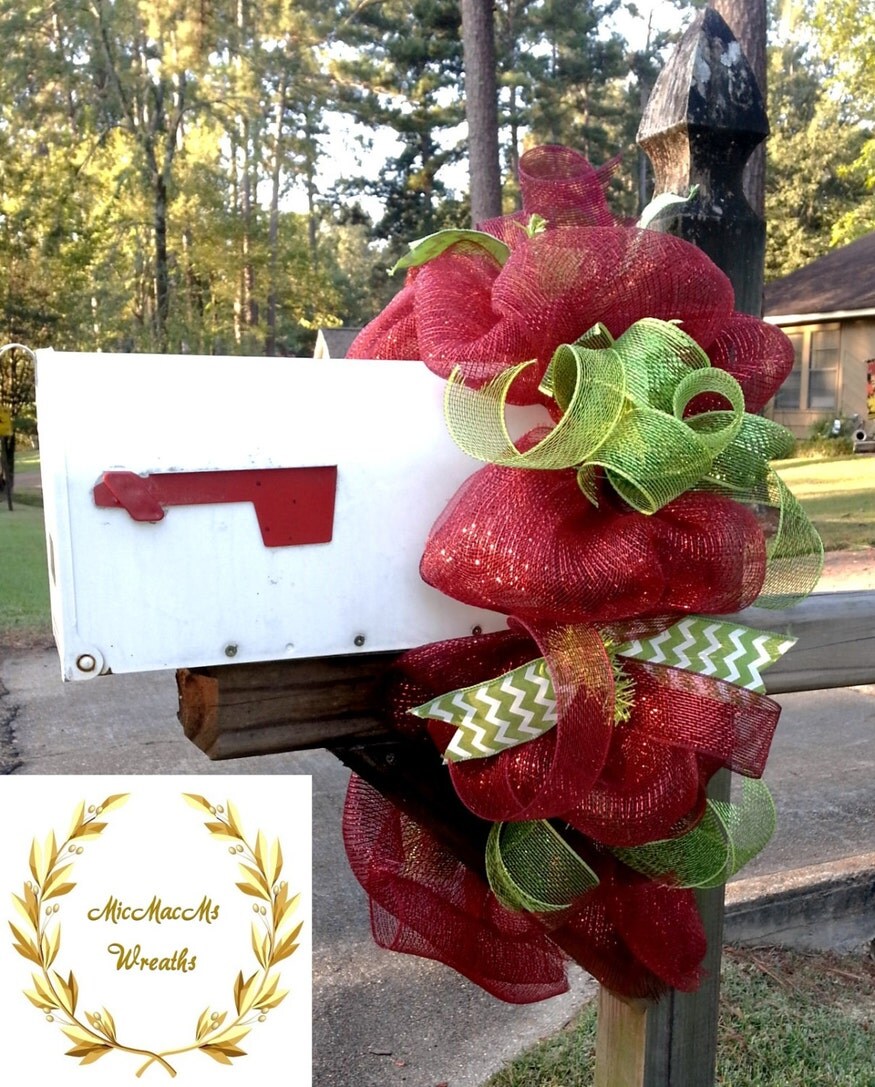 Deco Mesh and Ribbon Mailbox WreathCheck Price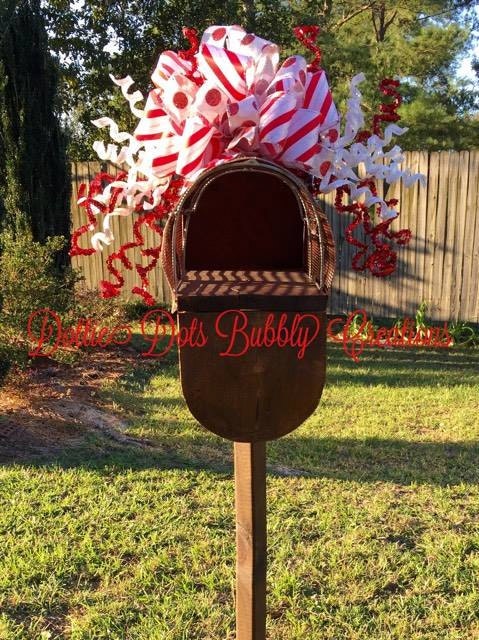 Ribbon and Twirls Mailbox TopperCheck Price
& The nice thing about using a swag to decorate is that if you have a plastic or other material mailbox you can still use a swag because it is tied onto the box instead of being magnetic.
The nice thing about using a swag is that they can be used on plastic or other material boxes unlike the covers and wraps that can only be used on metal.
Wrapped Christmas Ribbon or Garland 
One decorating idea for Christmas that will cost you hardly anything is to simply wrap your mailbox along with the post with Christmas ribbon or even with deco mesh.
Starting at the front of the mailbox or at the bottom of your post, simply just wrap the ribbon in a diagonal pattern to cover the whole entire thing. If you wish you can add a bow on top of the box with the matching ribbon or a complimentary ribbon.
You can even add in a simple red bow that you can find at the dollar store on the back of your mailbox or the post to add a bit more to it.
If you don't mind paying a bit more of you simply have some extra lying around, you could also do the same with evergreen garland as well.
Big Red Christmas Bow
Keep it real simple and easy this Christmas and just tie on a big red bow onto the post of your mailbox.
You can always find large red bows (or other colors) at your local discount stores or you could spend an extra few dollars on a nice, unique red bow as well. Just be sure that the bow can be used outdoors especially if you live in area where it snows or rains quite a bit.
The bow just adds a simple and classic touch to your mailbox and looks good with just about  any other outdoor Christmas decoration you may have in your yard.
Decorating your mailbox for Christmas is a great way to add some holiday spirit to your yard and welcome friends and family to your home this season.
It doesn't take a lot of time or even effort but it may just put a smile on your face or your neighbor's face each day.